110 Harbour St. Toronto, M5J 0B7
based on 66 Google Reviews
Karly Dolski
August 07th 2022
I was visiting from Winnipeg and walked in to HealthOneTO randomly and I'm so glad I did. Philmona and Dr. Law were incredible. They were kind, helpful and knowledgeable, and saved me from a somewhat urgent situation I had put myself in. Can't thank them enough. Highly recommend!!
Mariana Ravazolli Martins
July 21st 2022
I had a great experience at HealthOne Optometry! Everything was explained to me in detail and Valerie was very friendly and patient when teaching me how to use contact lenses. Thank you!!!
Comprehensive Eye Examinations – Adults & Seniors
A comprehensive exam is an essential part of your primary eye care approach. Our highly trained optometrists will be able to detect any potential issues that could cause further vision complications in the future.
Even if you do not have any noticeable symptoms, it's recommended that you receive an eye examination annually or once every two years if you're between the ages of 20 and 64. For seniors, exams are recommended annually. Vision loss often happens when symptoms go unnoticed or unaddressed, so a comprehensive exam is a crucial component to maintaining optimal eye health throughout your life.

Our clinic combines the latest technology with an exceptional care experience for each patient. Based on your exam, they can recommend proactive approaches and treatments to support your unique eye health needs.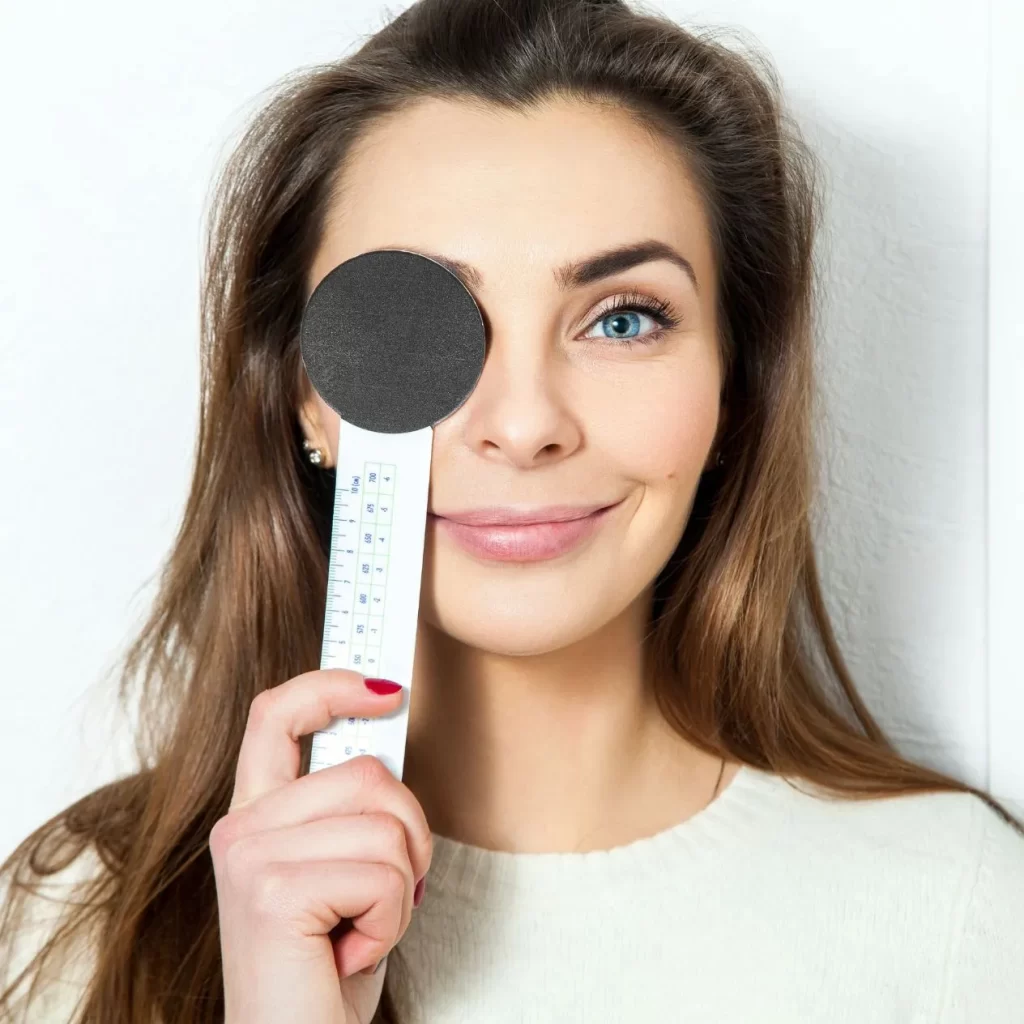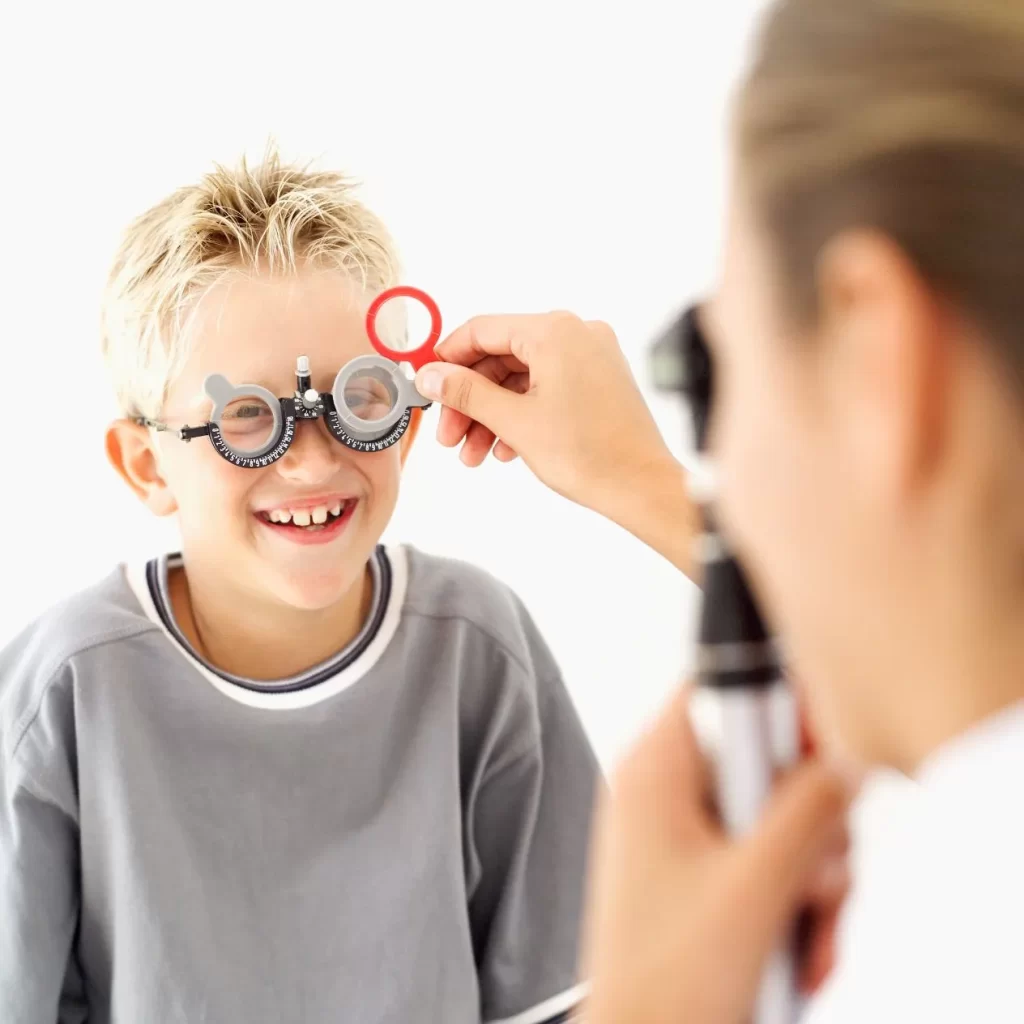 Comprehensive Eye Examinations – Children
It's recommended for children to begin getting eye exams at an early age to maintain proper vision and identify any potential eye health issues.
Our team can perform a comprehensive eye examination for children as young as six months old, which is the recommended age to do so by the Ontario Association of Optometrists.

After the six-month mark, children should receive another exam between the ages of 2 and 3, and on an annual basis afterward. This will ensure any possible eye diseases are identified and treated early. Children who experience problems with their vision may struggle in school and learning environments, so a comprehensive examination can help them reach their fullest potential.
A Retinal Scan is used to evaluate and confirm the health of the retina, which is located at the back of your eye.
Your retina, optic nerve, and retinal structures all play an important role in your vision and overall eyesight, so a retina scan allows us to get a clear understanding of how healthy they are.

Your optometrist will use a digital camera to capture a high-resolution picture of your retina and use this to track any changes in the future. This comparative analysis can help identify the progression of eye diseases such as macular degeneration, retinal tears and detachments, glaucoma, and other diseases of the retina.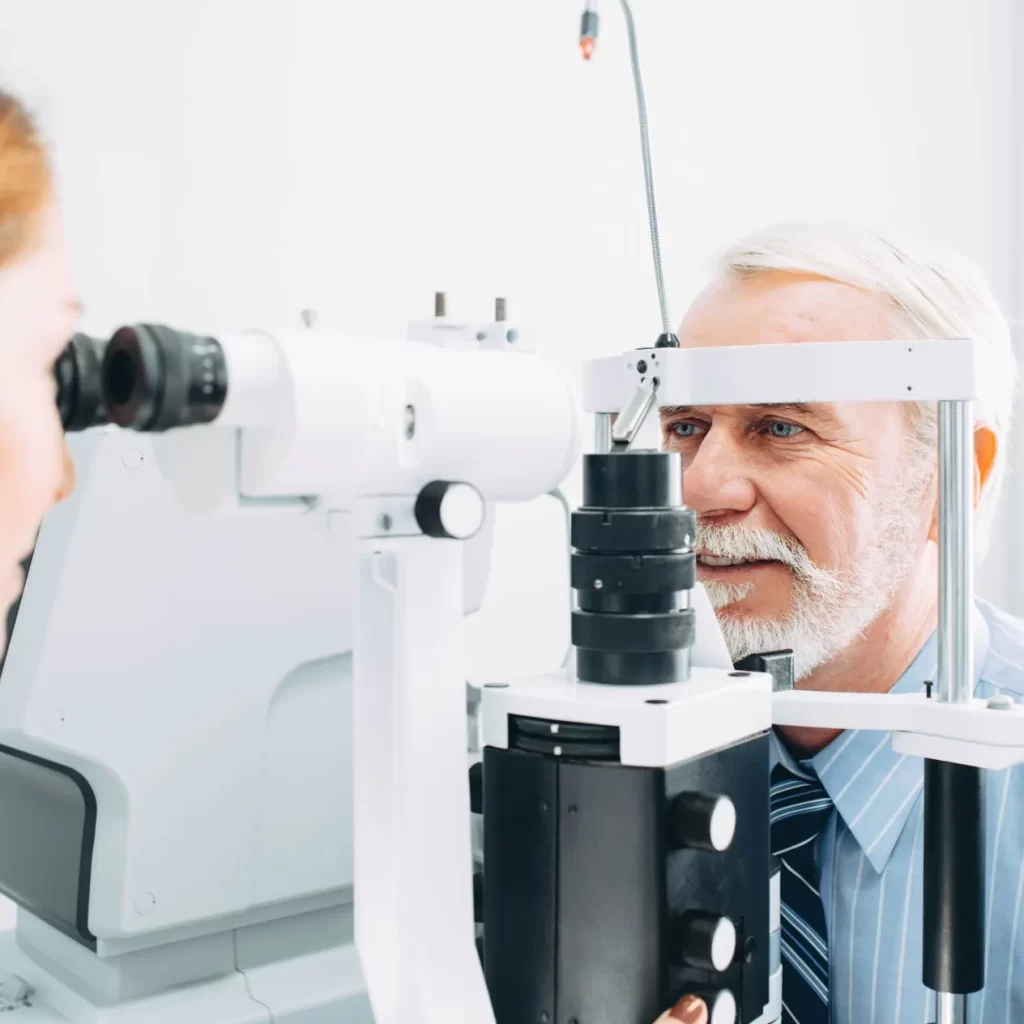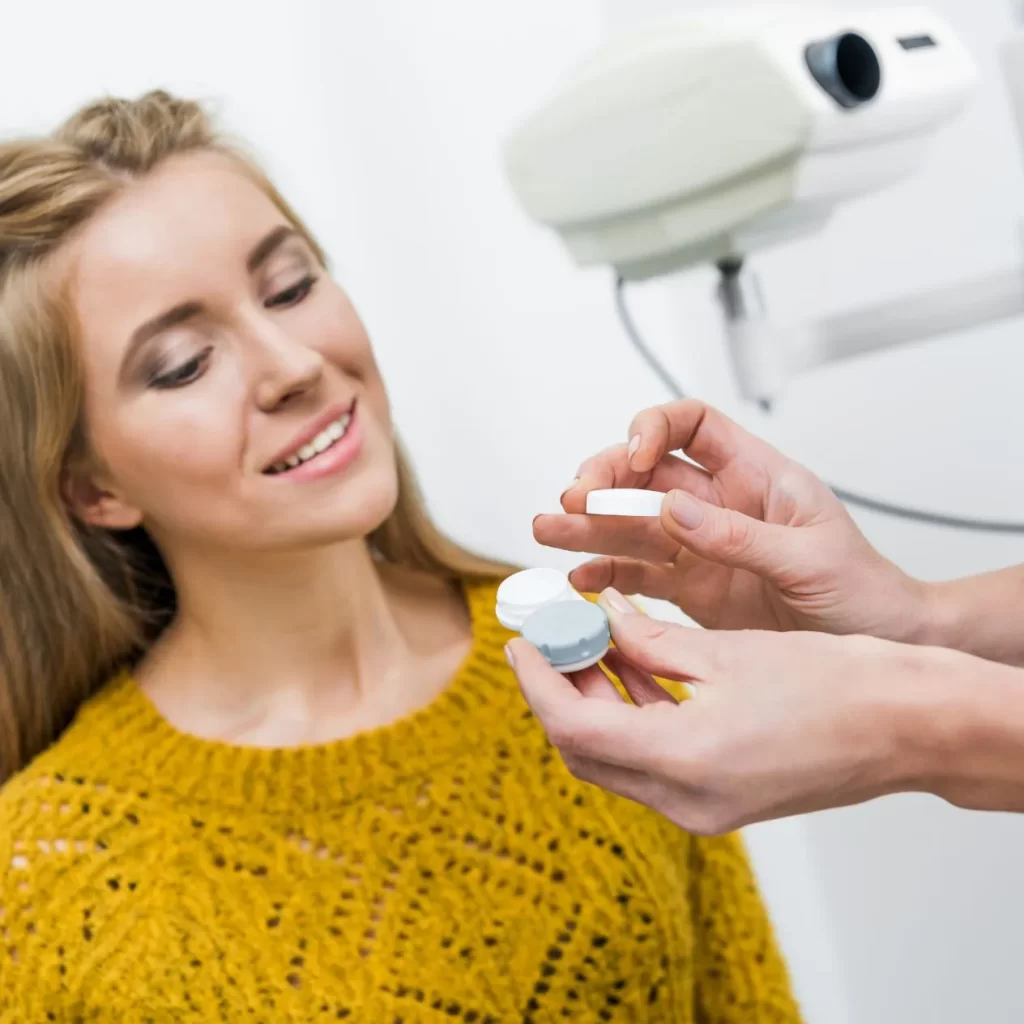 Contact lenses are an excellent alternative to wearing glasses that can fit your unique eyesight needs.
Some patients use them each day, whereas some only choose to wear contact lenses for special occasions or sports. An important first step is to receive a contact lens fitting to ensure optimal comfort and hygiene during use.

Below are the steps our Optometry team will take to match you with the right contact lenses:
| | |
| --- | --- |
| Step 1 | Comprehensive eye exam |
| Step 2 | Contact lens consultation (including a contact lens fitting, measuring of the corneal curvature, measuring of the pupil and iris, and tear film evaluation) |
| Step 3 | Contact lens trial and prescription |
| Step 4 | Follow-up appointment |
Dry Eye Disease (DED) occurs when the quantity and/or quality of tears fails to keep the surface of the eyes adequately lubricated.
It is a chronic, but manageable medical condition that can interfere with work and home life.

Patients suffering from Dry Eye Disease may experience sandy, scratchy, or burning sensations around the eyes as well as sensitivity to light, blurry vision, and excess tearing. The disease should be managed by an Optometrist because if left untreated, it can cornea damage, vision loss, and even blindness in severe cases.

HealthOne offers specialized diagnostic testing for dry eyes, which gives us a complete understanding of your symptoms and the quality of tears you produce.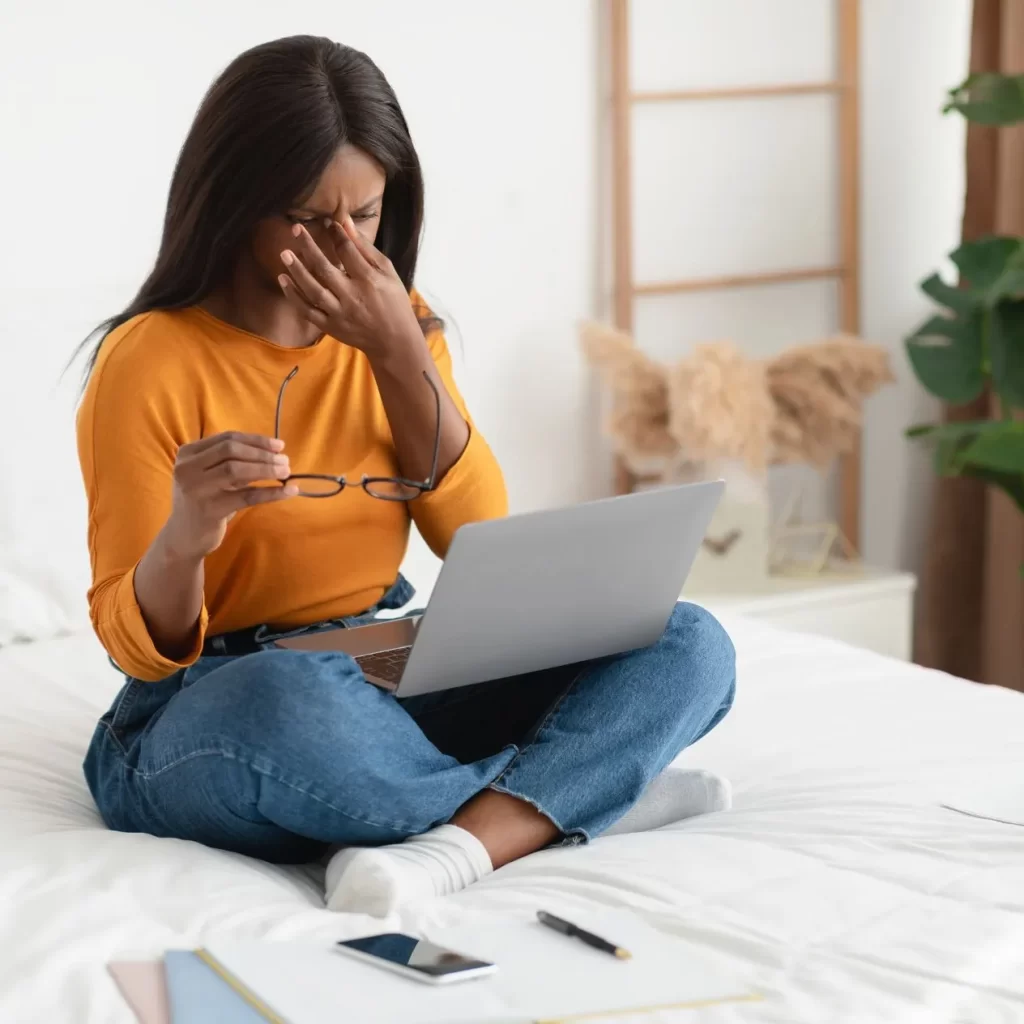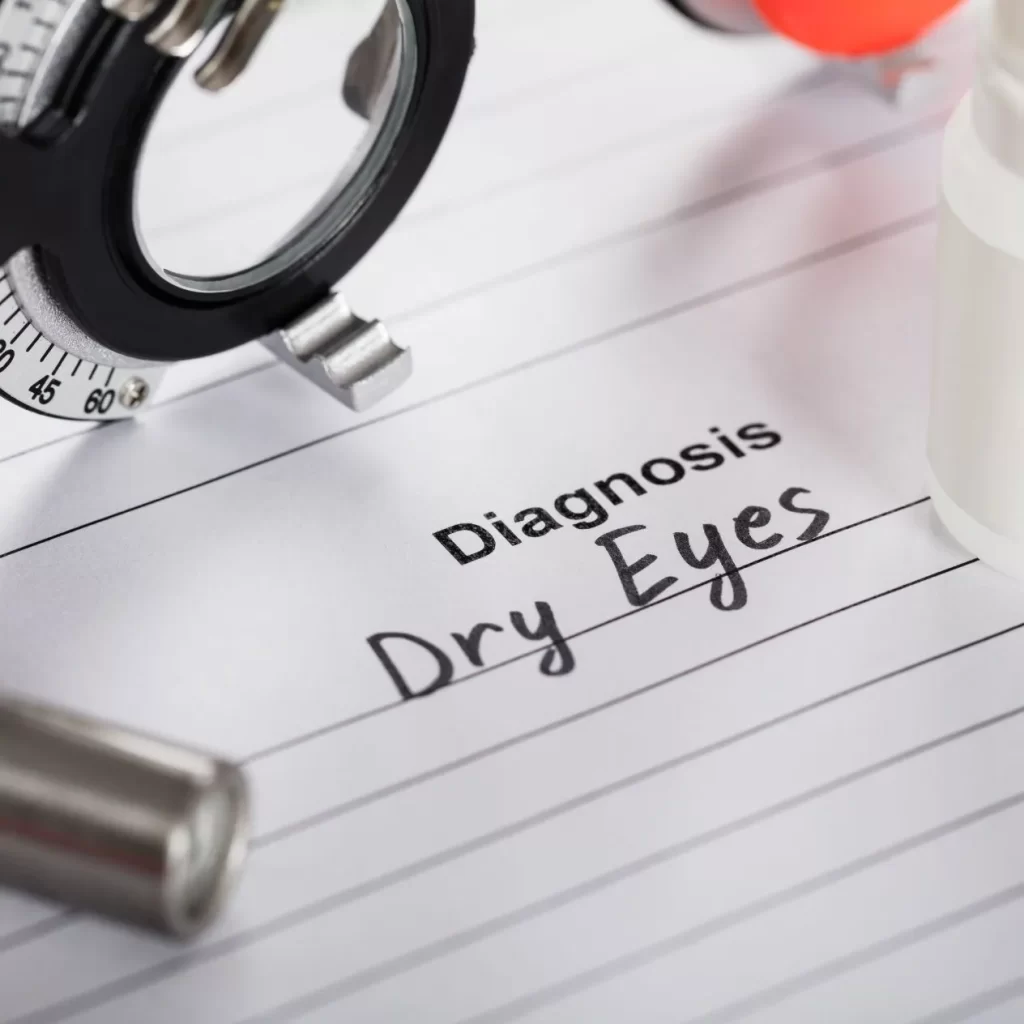 LipiFlow Dry Eye Treatment
Dry eye syndrome often occurs from a lack of oil in our tear films. This causes premature evaporation of our tears which can cause discomfort and a dry, burning sensation. Patients with dry eye syndrome may also have excessive tears in windy conditions.
LipiFlow is a treatment that restores the oils in our tears. An activator is inserted around the eyelid and using Vector Thermal Pulsation, will have your oil glands cleared and opened within 12 minutes of treatment.

We recommend you complete the dry eye assessment prior to booking your appointment. Based on our schedule, we can complete your consultation and Lipiflow Dry Eye Therapy on the same day.
Eye Emergencies and Emergency Appointments
When an accident takes place, having access to emergency eye care is extremely necessary. Our Optometrists have a thorough understanding of eye anatomy which allows them to properly diagnose and treat your injury.
We recommend visiting your eye doctor before going to the emergency room for any of the following symptoms: sudden loss of vision, double vision, redness or pain, pink eye, styes, concussions, eye infections, itchy or irritated eyes, problems with contact lenses, foreign materials in the eyes, or chemical exposure.

HealthOne Optometry offers emergency services for patients (existing and new) that require immediate and urgent eye care.

HealthOne Optometry gives priority to emergency situations. Appointments may be booked on the same day.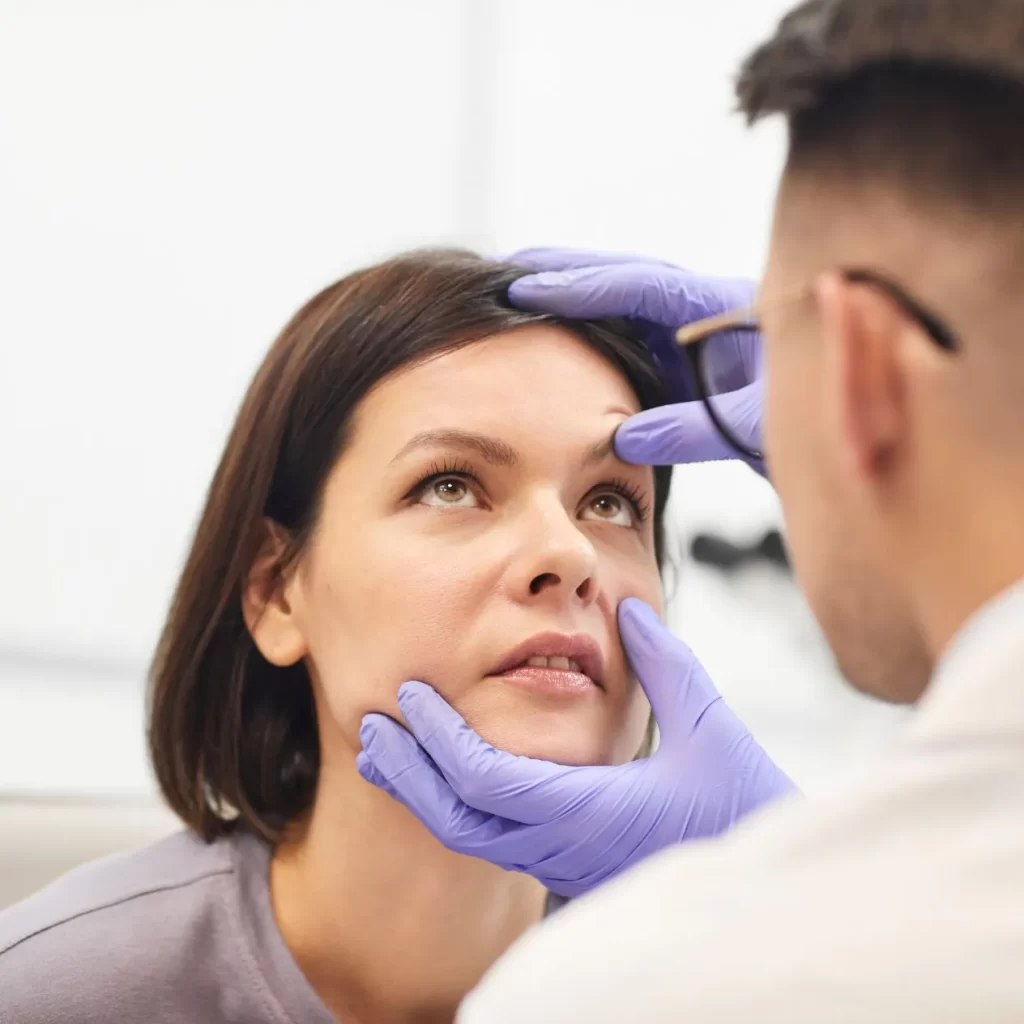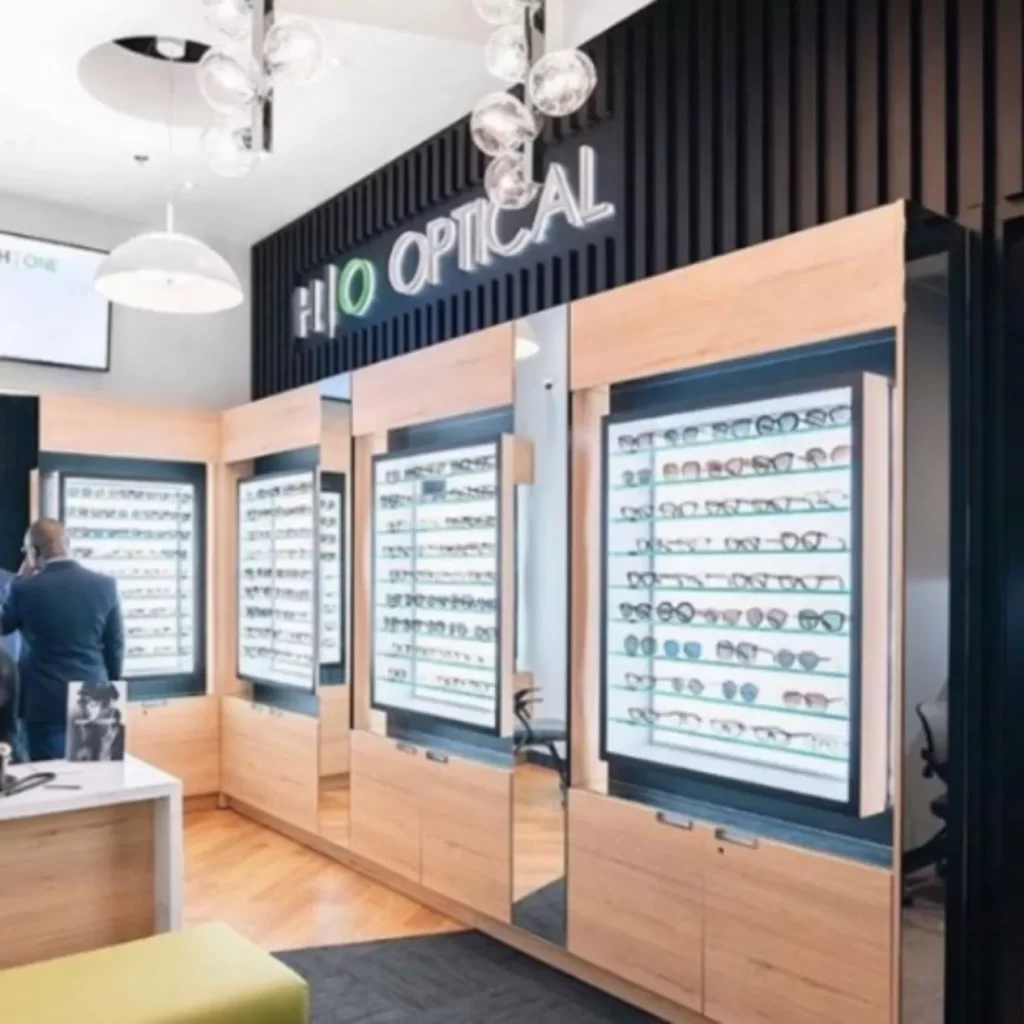 The HealthOne Optical showroom is one of the best eyeglass stores in Toronto. Our professional team is here to assist you with all your eyecare needs.
We carry a premium selection of leading designer frames that include Gucci, Tom Ford, IC Berlin, Michael Kors, Burberry, Armani, Kate Spade in a wide variety of styles, colors, sizes, and frame materials. We also create custom-crafted eyeglasses to suit your unique vision needs.


Along with glasses, our team is proud to offer contacts, sportswear, sunglasses, anti-reflection, and anti-scratch lens and blue light blocking lenses, and more! Whatever type of glasses you're looking for, our opticians and frame stylists can help you find them. You can try on new frames in our brightly lit showroom and enjoy the benefits of on-site repairs and adjustments.


"Where's the best optical store near me?" It's at HealthOne in our optical showroom!
Take advantage of our exciting winter promotion! Buy one pair of glasses, get your 2nd pair for 40% off. Visit our Optical store at HealthOne to learn more and redeem this offer!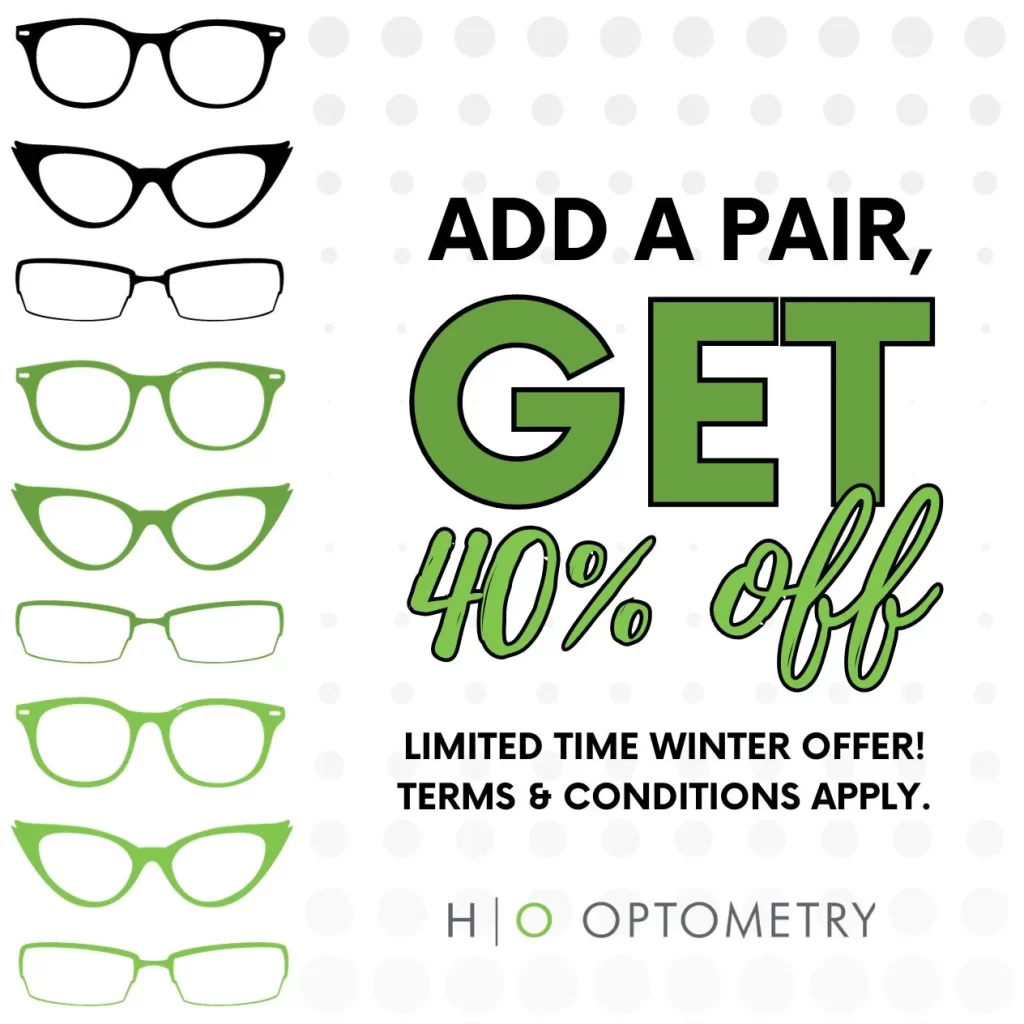 Enjoy dedicated time to browse our extensive selection of frames. Your personal frame consultant will work with you by hand-selecting frames that match your face shape, skin tone, and lifestyle.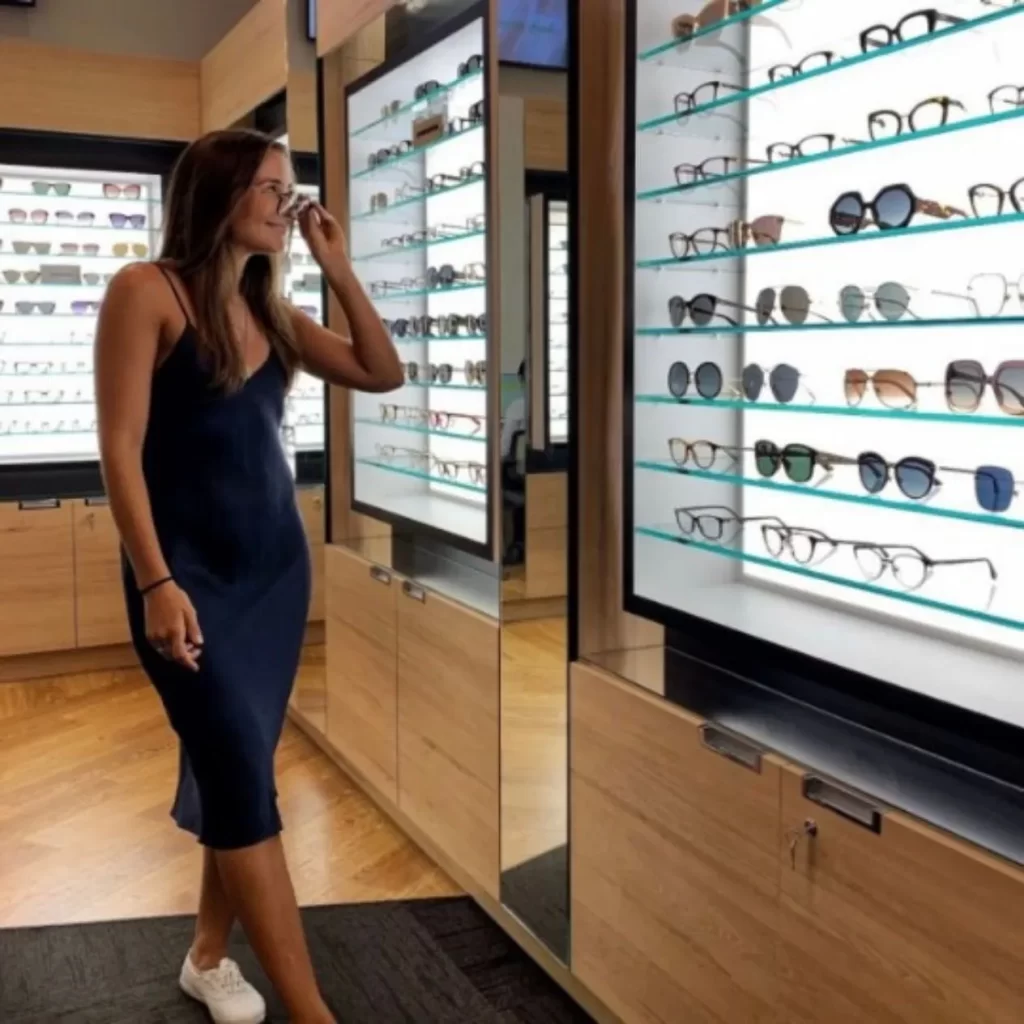 Prescription Eye Glasses and Custom Eye Wear
HealthOne is a proud leader in premium eyewear and high-quality ophthalmic lenses. We focus on matching the right product to your needs with a focus on optimizing visual performance and reducing eye strain.
We offer prescription glasses from many leading designers in eyewear and will give you expert advice on the best frames suited to your needs. Tired of your glasses sliding down your nose? We also feature a bespoke spectacle service using the latest technology to custom tailor frames exactly for your face.

Visit us to learn how we can match you with the perfect prescription eyewear!
Contact lenses are a great alternative for those who do not wish to wear eyeglasses daily. HealthOne is a leader in contact lens technology, care, and service, and look forward to matching you with the right lenses for your needs.
With today's technology, the lenses are becoming more breathable and comfortable, allowing for longer wear time and clearer vision.

During your contact lens eye examination, we will determine the best prescription, brand, size, and modality of your contact lenses. We also offer an impressive range of lens types including daily disposable, weekly, monthly, non-disposable, toric, multifocal, and monovision.

Ask our optometrists if you are a candidate for contact lenses and have your eyes professionally fitted for a pair.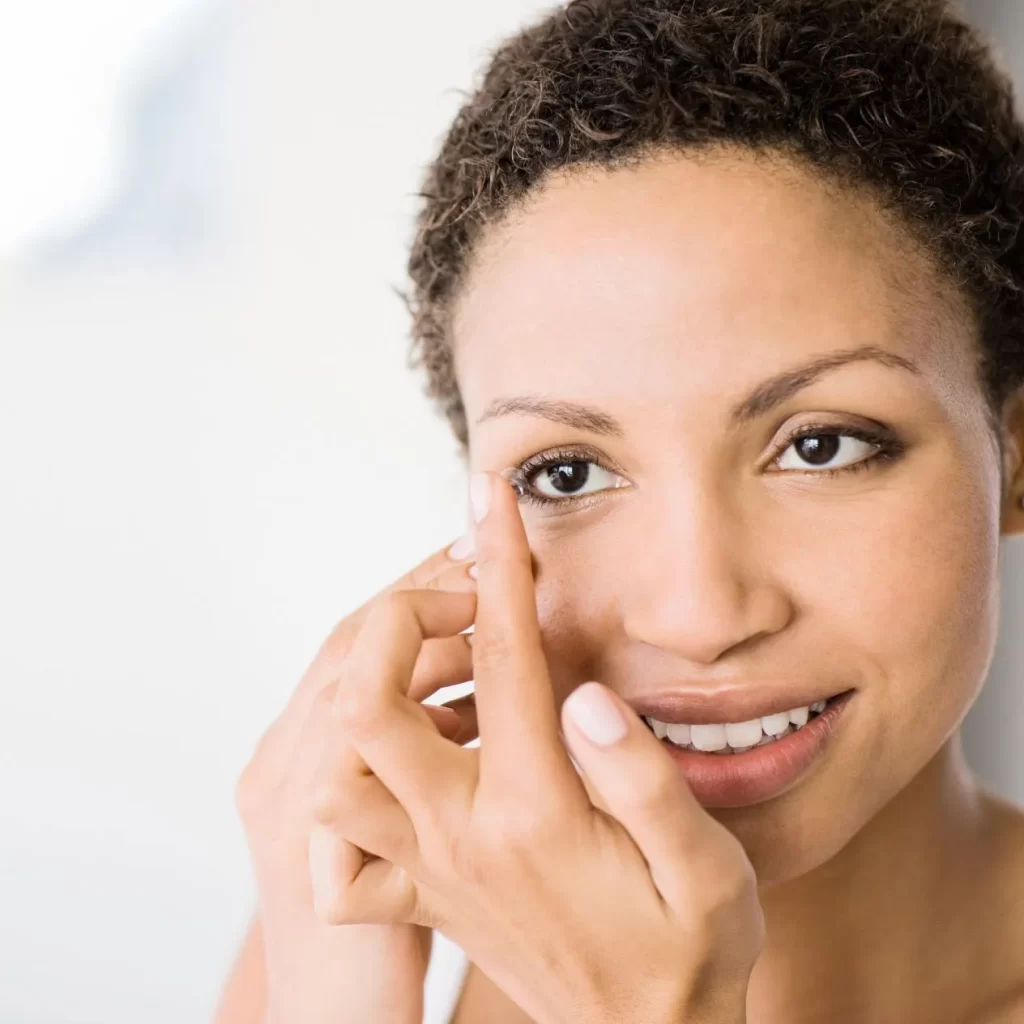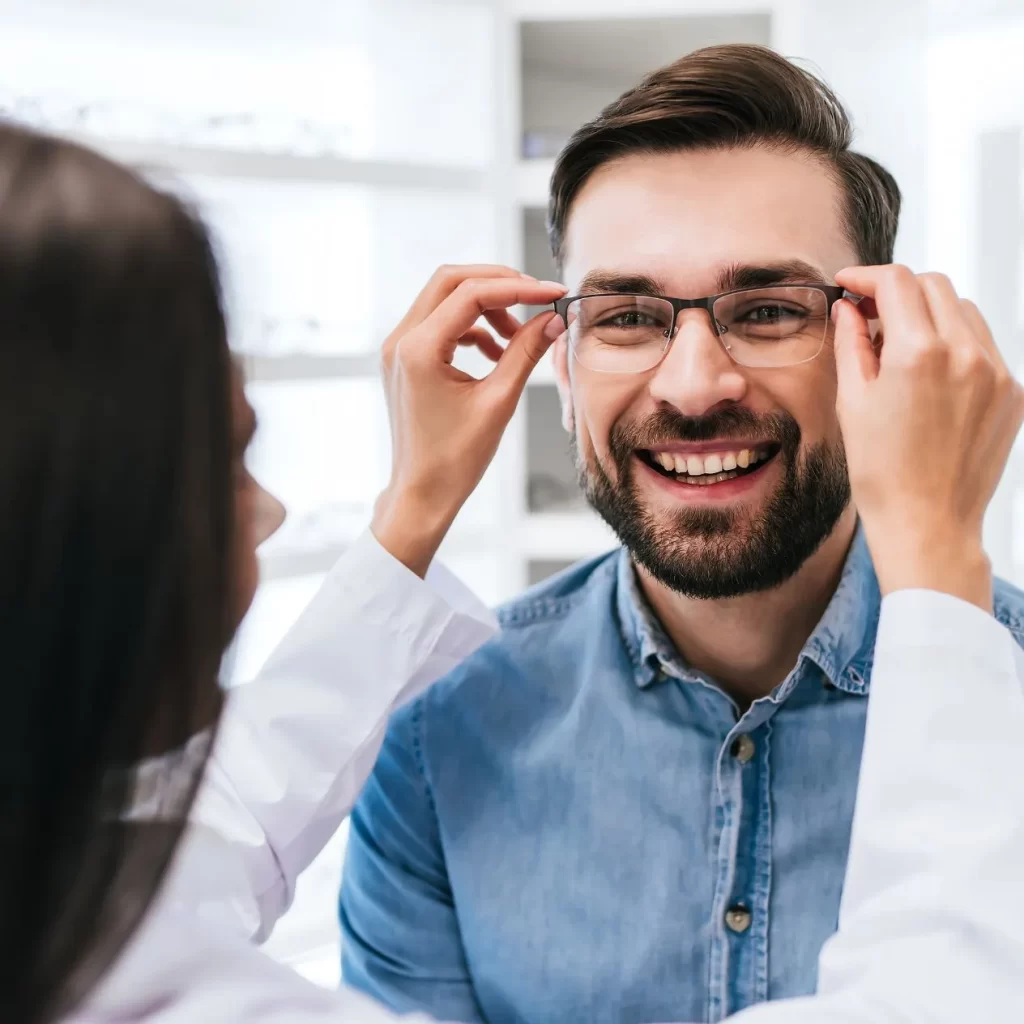 Blue light is a portion of light emitted from digital screens such as your computer, phone, or tablet screen. This causes harm to our eyes due to digital eye strain.
Since we spend the majority of our time looking at these screens, the causes of blue light on eye health should not be overlooked. Long term exposure may impact your sleep schedule, cause headaches and sore eyes, and even turn into macular damage over time.

Blue light protection glasses can be used to protect your eyes from your screen. This can also reduce glare and minimize the changes in retinal damage over time. A member of our Optometry team would be happy to discuss what blue light blockers are available to you.
Looking for the best Sunglasses or prescription sunglasses in Toronto? Look no further than HealthOne Optometry.
We are firm believers in educating our patients about smart strategies for eye care. UV light from the sun can cause severe damage to the retina, which is why sunglasses with quality protective lenses are so important.

They are not only necessary on sunny days. In fact, we recommend wearing sunglasses year-round to prevent the progression of severe eye diseases later on in life. We have top designer brands to include Gucci, Dior, Tom Ford, Fendi, Hugo Boss, Kate Spade, Tommy Hilfiger for women, men, and kids frames that are both stylish and functional. All of our sunglasses can be purchased without a prescription or with your own added to them.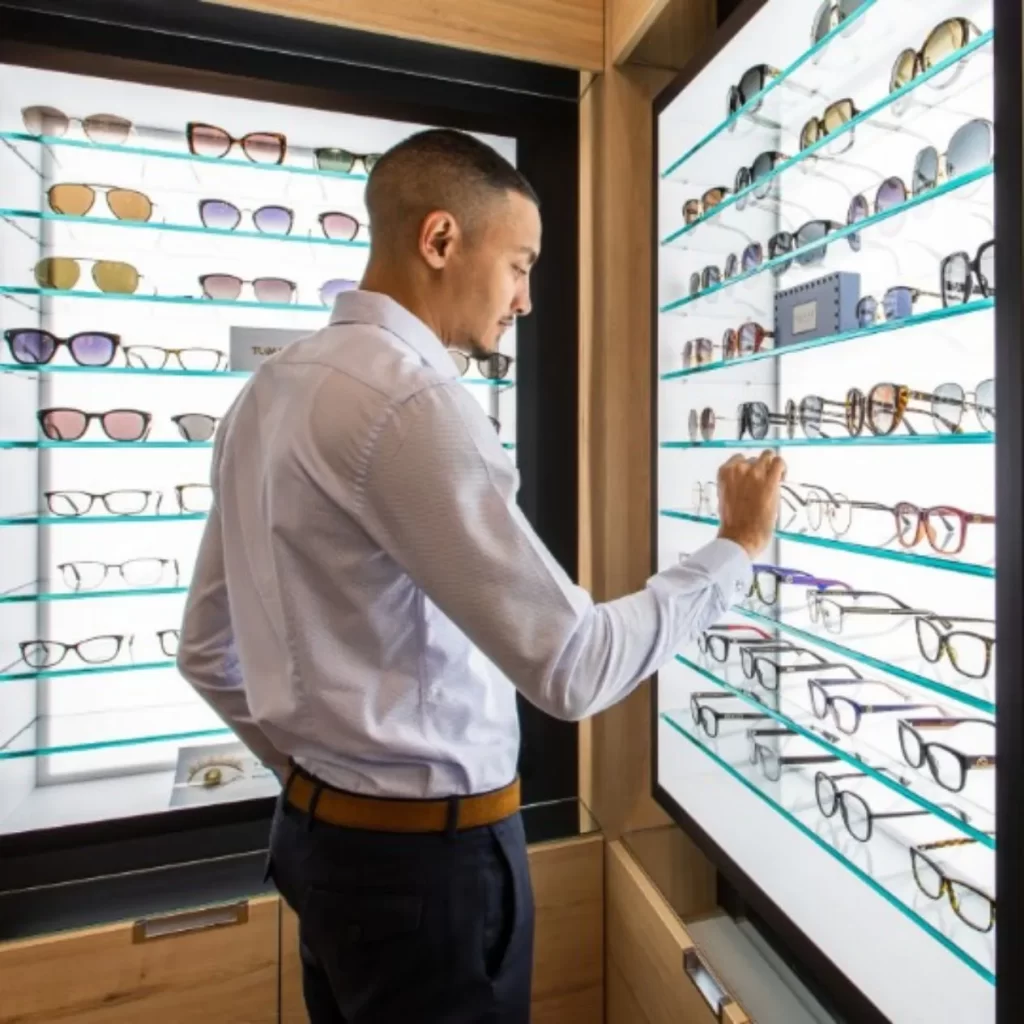 Dry Eye Therapy with I-MED Pharma
Dry Eye Disease occurs when tears produced fail to keep the surface of the eyes properly lubricated. As a result, those suffering may experience discomfort that can interfere with daily tasks and everyday life.
A large reason people experience Dry Eye Disease is because of the increasing amount of time we spend on computers each day.

We use the innovative I-PEN Osmolarity System, the world's first point-of-care electronic diagnostic device. It measures tear film osmolarity associated with marginal, mild, moderate, and severe dry eye disease. The I-PEN test can give you peace of mind about your dry eyes because it is accurate, quick to administer, minimally invasive, and affordable.
We also offer I-MED Pharma's unique line of products designed for dry eye treatment at an affordable cost.
I-DROP® is the only preservative-free viscoadaptive artificial tear on the market.
These premium eye drops can effectively and quickly relieve dry eye symptoms. I-DROP is part of I-MED Pharma's effective line of products designed for the treatment of Dry Eye Disease that requires fewer daily applications than other options on the market. You can speak with our Optometrist to learn how eye drops can be an effective component of your treatment approach.
I-LID 'N LASH is soothing wipes that can be used to effectively and gently clean the surface of the eyes.
This is often useful for patients who experience Meibomian gland disease. It can occur when the glands do not secrete enough oil, which causes tears to evaporate quickly and result in dry eyes. The type of wipes used to cleanse the delicate eye area should be selected carefully, and I-MED's wipes are an excellent option for promoting overall eye care and relief of dry eyes.
I-VU® Omega-3 Plus (Nutrition & Vitamins)
An important component of ocular health is having a diet rich in Omega 3 fatty acids.
Most Canadians do not get the recommended daily amounts from their diet alone, so supplements can be a great option. Eye care professionals may often recommend a nutritional vitamin to support your eye health and overall health.

Consuming a multivitamin and/or Omega-3 each day can be an effective way to reduce the onset of dry eyes or associated symptoms or decrease inflammation. If you are not getting enough fresh fish, seafood, fruits, and leafy greens in your diet, HealthOne recommends implementing I-VU Omega-3 plus into your daily care routine.
I-RELIEF™ Hot & Cold Therapy Eye Mask with ThermaBeads™
An effective way to treat dry eyes is through moist heat therapy. This can be done through the use of a hold or cold compress because they provide quick relief of your discomfort and symptoms.
Over time, consistently using a compress can improve your overall ocular health. Along with providing immediate relief, it helps increase blood circulation and reduce tear evaporation, which makes it an excellent form of treatment for dry eyes.

I-RELIEF™ Hot & Cold Therapy Eye Mask with ThermaBeads ™ can help you manage your condition whether you experience mild or more serious symptoms. It offers relief of symptoms due to blepharitis, meibomian gland disease, styes, headaches, sinus pressure, tension, swelling, and puffiness.
Frequently Asked Questions
How do I get an eye exam in Toronto?
You can get an eye exam appointment with our Optometrist in Toronto by booking online. If you have questions about the specific eye problems you may facing, you are welcome to email us at [email protected] or call us at 416-613-6433.
Can I buy contact lenses over the counter or do I need a prescription?
No, you will need a contact lens prescription to buy them at the Optometrist's office or online. It's important to know that a contact lens prescription is different than a regular glasses prescription. Speak with your eye doctor to learn more and receive a prescription which you can use to make these purchases.
Do you need an eye test for contact lenses?
If you have a prescription that has not expired, you will still be able to get contact lenses. However, if you had not had an eye exam in a while, it's recommended that you book an appointment so your prescription is up-to-date and the most accurate. You can book an eye exam at our clinic here.
How long do contacts last?
It depends on the type of contact lenses you wear. Contacts designed for daily wear should be replaced either daily, weekly, bi-weekly, or monthly. Extended-wear contact lenses are not as frequently prescribed, but they can be worn for up to a month before needing to be replaced. For cases where extreme long-wear contacts are required, rigid glass permeable contacts are recommended.
Are prescription glasses covered by OHIP?
No, OHIP does not cover eyeglasses or contact lenses. Certain health insurance plans will include Optometry services; please check with your provider to see if this option is available to you.
Can an optometrist treat dry eye?
Yes, an optometrist can treat dry eyes. At HealthOne, our team specializes in treating dry eyes and uses advanced Lipiflow technology to effectively target and treat symptoms of dry eyes.
Should I worry about dry eyes?
Dry eyes are a chronic condition, so it's important to see an eye doctor if you begin to notice symptoms. Common symptoms include red, watery eyes, pain, sensitivity to light, scratchiness, and/or a burning sensation. The good news is that there are products and treatments available that can alleviate your symptoms. Please speak with an Optometrist to learn more about how to reduce your chances of dry eyes and treat any existing discomfort.
Can too much computer time cause eye problems?
It is possible to develop a variety of symptoms due to prolonged computer time and screen usage. These can include dry eye symptoms, blurry vision, and headaches. It's recommended that you take frequent breaks to help alleviate symptoms. You can also speak with an eye doctor to learn more about ways to keep your eyes and vision healthy.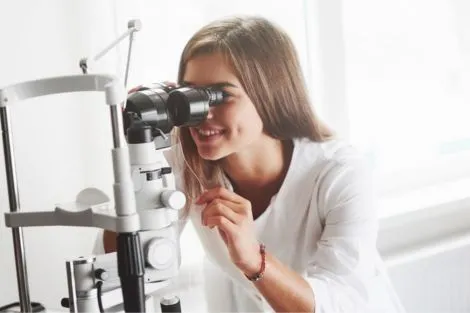 5 Problems Eye Exams Can Detect: Our Optometrist Weighs In
Eye exams are an important way to keep your eyes healthy. In this blog, our Optometrist outlines 8 health problems an exam can detect early.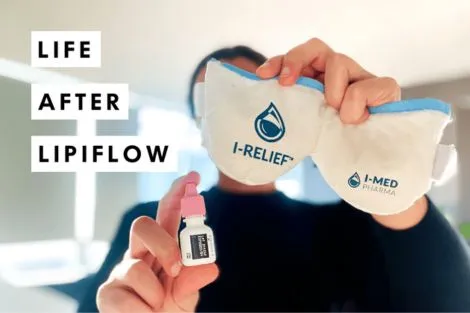 Life After Lipiflow: 3 Things I'm Doing to Manage My Dry Eyes
Olivia talks about how she's managing her dry eye symptoms after Lipiflow treatment.
Contact Lenses vs. Glasses: Which One Should You Get?
Have you ever wondered if you should be using contact lenses instead of glasses? We're weighing the pros and cons of each in this blog post.
HealthOne is a Unique Full-Service Medical Clinic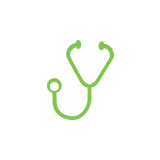 Medical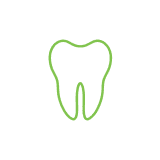 Dental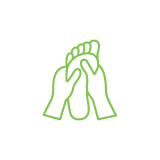 Rehab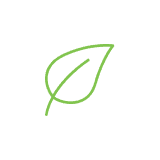 Wellness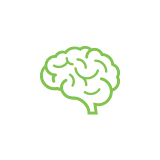 Mental Health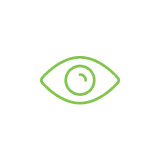 Optometry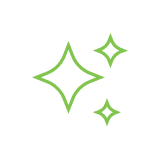 Skin Clinic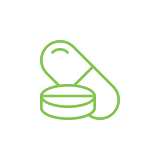 Pharmacy