110 Harbour St. Toronto, M5J 0B7
based on 183 Google Reviews
A regular dental visit comprises of a dental examination followed by dental hygiene and cleaning services. At the dental examination, our dental professional will focus on protecting your teeth from conditions that could weaken or otherwise damage them. It will include an examination of the gums and the bones that support your teeth.
The number of annual visits will vary for different people, but it is typically recommended to have a dental examination every six months. If you are suffering from dental problems or have oral health risk factors, your dentist may recommend you visit as often as every three months for a check-up.

During a regular dental check-up, HealthOne Dental will also do a comprehensive medical history review, examine diagnostic dental x-rays, perform an oral cancer screening and gum disease evaluation, examine tooth decay and plaque formation, as well as check existing restorations such as fillings and crowns.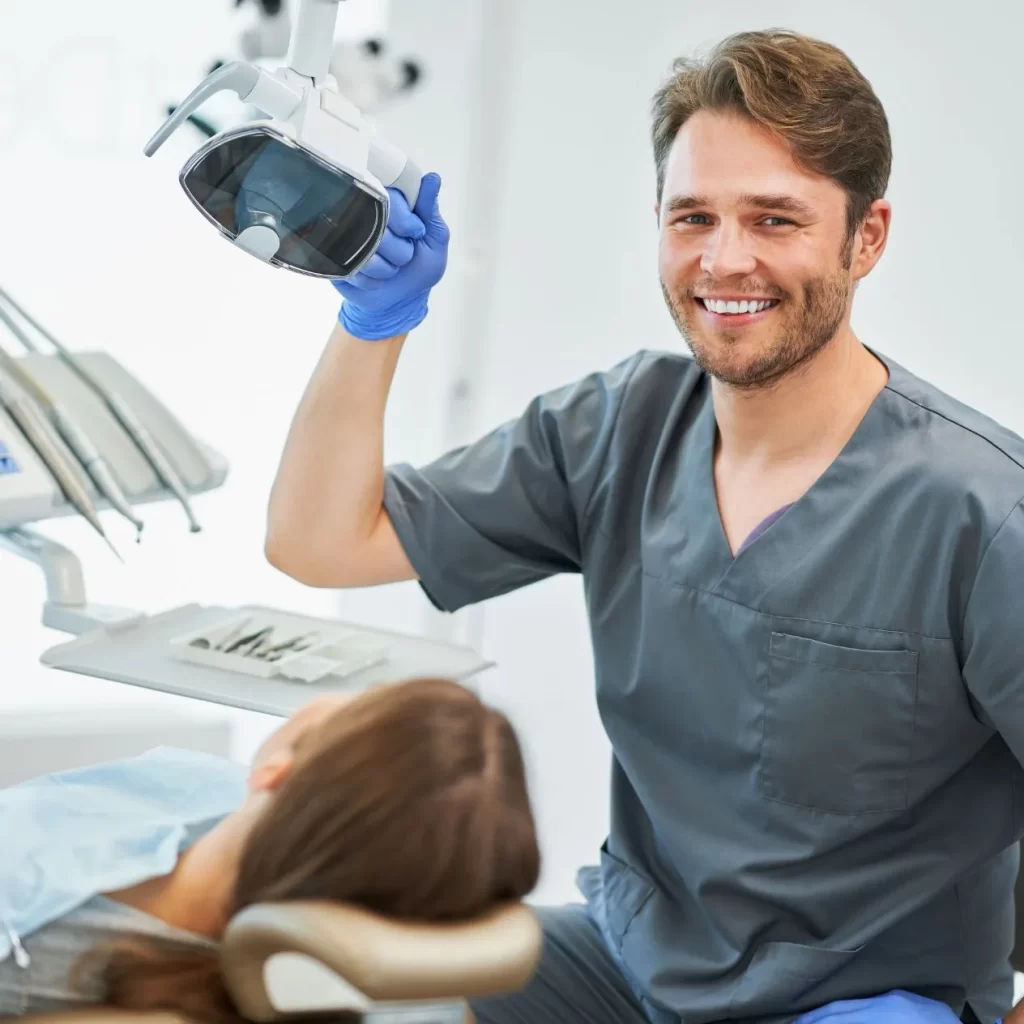 It's important to have your teeth professionally cleaned every three to six months to ensure good oral hygiene, and prevent potential tooth and gum concerns.
During your dental appointment, your dental hygienist will remove any built-up plaque and tartar on your teeth. Plaque is comprised of bacteria that can continually grow and produce toxins that inflame your gums and can even lead to periodontal disease. Our caring dental hygienists will then polish your teeth to remove stains and create a pearly white and radiant smile.

Our team will also review any oral hygiene aids that would be beneficial to your teeth including electric toothbrushes, special cleaning aids, fluorides, rinses, and more. We can also give you recommendations for dietary habits that will help to protect your teeth and answer any of your questions.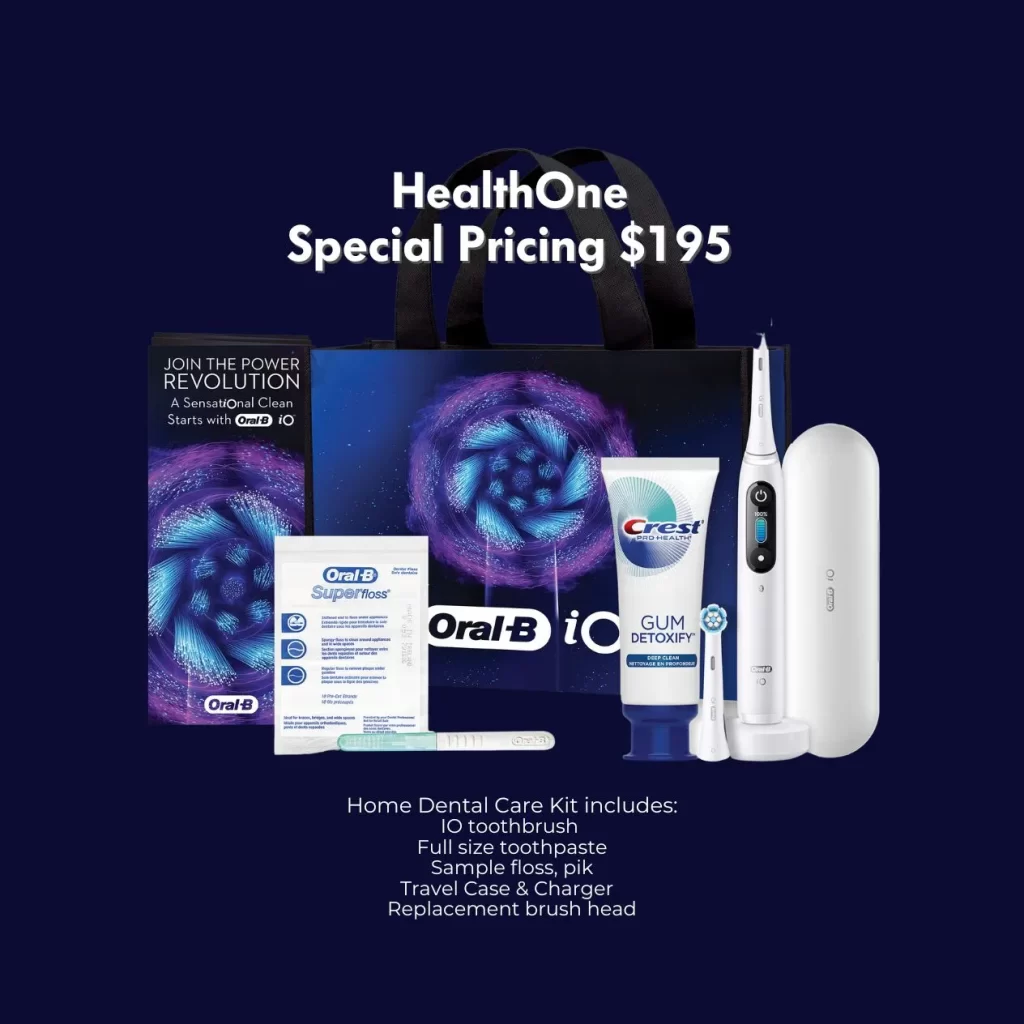 Revolutionize Your Dental Care with Oral B
At HealthOne Dental, it is our goal to ensure each patient receives the best treatment in-clinic while also being equipped with the right knowledge and tools to care for their teeth at home.
Our dentists recommend using an electric toothbrush at home. It plays a critical role in preventing gum diseases and is one of the most effective ways to keep your teeth looking beautiful and healthy!

We are proud to introduce the NEW Oral B IO Toothbrush – guaranteed to provide you with a dentist-level clean and truly unmatched brushing experience. HealthOne is thrilled to be offering this toothbrush to our Dental patients at a SPECIAL PRICE!

The IO Toothbrush is a revolutionary toothbrush driven by dentist-inspired technology. Key features include:
| | |
| --- | --- |
| PRECISE TRACKING | Precise Tracking using Bluetooth to report your daily brush score and areas you missed. |
| MICRO-VIBRATION | Micro-Vibration technology which gently provides you with a professional level clean at home. |
| SMART PRESSURE SENSOR | Smart Pressure Sensor to help you get the optimal brush. The IO toothbrush coaches you with a green or red light indicator when you are brush too hard or just right. |
Did you know that
majority of adults
have fillings in their teeth? Dental caries (cavities) is a common part of life, and HealthOne Dental aims to offer the most modern solutions.
We only fix cavities using beautiful white fillings that are mercury and metal free, and virtually undetectable. White fillings, also called composite fillings, are made of plastic and ceramic. They allow your fillings to fully blend with your natural teeth, be undetectable by yourself and others.

To place tooth fillings, your dentist cleans all decay from the tooth and puts a glue (or bonding material) on the inside of the hole created. Composite resin is put into the hole in thin layers. Each layer gets hard with the help of a special light that your dentist holds over the tooth. When the last layer of the filling is hard, your dentist shapes the filling so it looks and feels natural.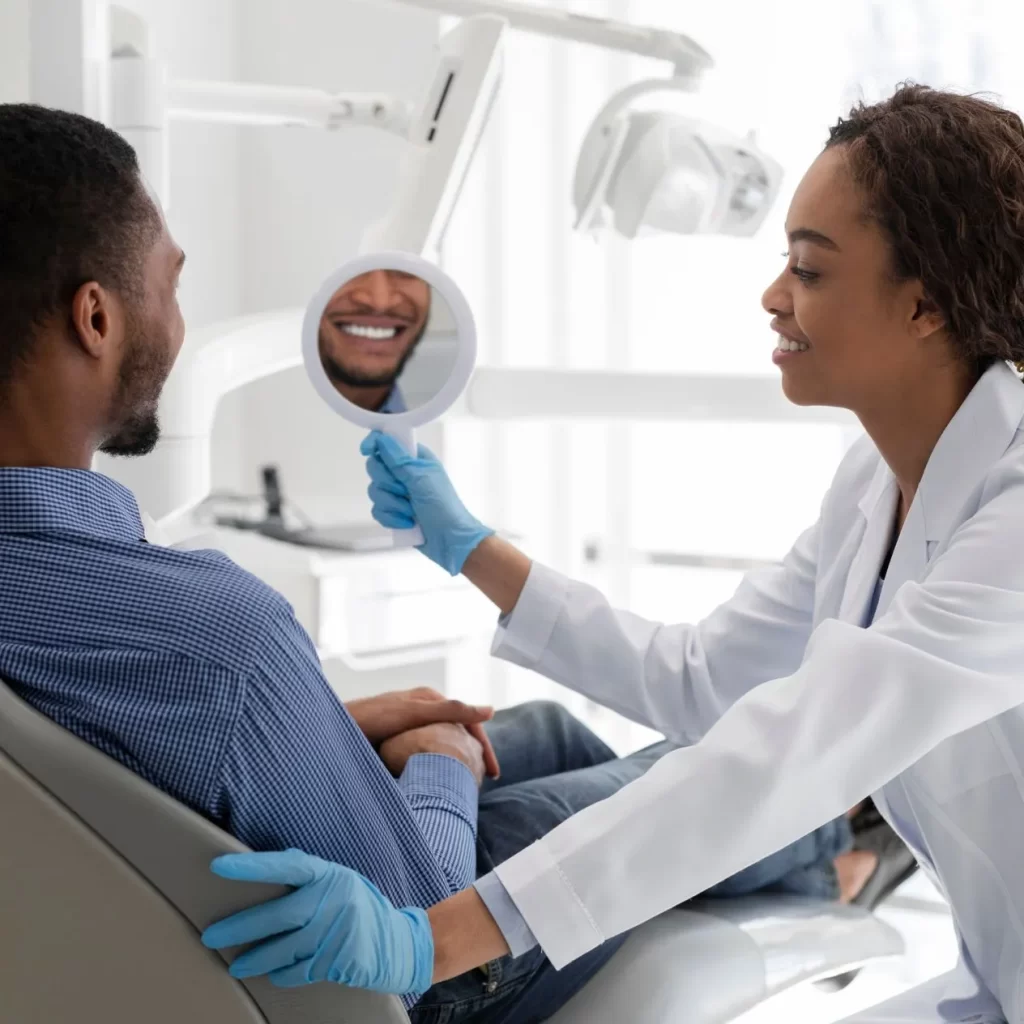 A crown (sometimes referred to as a cap), is a hollow, artificial tooth used to cover and protect a damaged or decayed tooth. They also protect the structure of the tooth to provide you a more natural looking smile.
If you have a tooth that is damaged but not lost, a crown can be used to restore its shape, appearance and function. You may also need a crown if you have a large filling, broken tooth or a root canal.

This covering restores the tooth and protects it from further damage. Crowns can also be used to cover a discoloured or misshapen tooth. A tooth that has been fixed with a crown looks and works very much like a natural tooth.
Mouth Guards - General & Sports
We recommend using a mouth guard to protect your teeth from grinding or clenching while you sleep as well as from injuries while playing sports. There is also a role for properly fitting mouthguards to help to reduce snoring and relieve obstructive sleep apnea.
Night guards or bite plates (also called an occlusal splint) are made of clear plastic. It fits over the biting surface of the teeth so that you bite against the splint rather than your teeth. This helps your jaw joints and muscles to relax. Nightguards can be worn with braces and should be rinsed before and after each use.

The Canadian Dental Association (CDA) recommends that individuals who play contact sports should use a properly fitted mouth guard. A custom-fitted mouth guard by a dentist decreases the risk of orofacial injuries because they are properly positioned at the time of impact.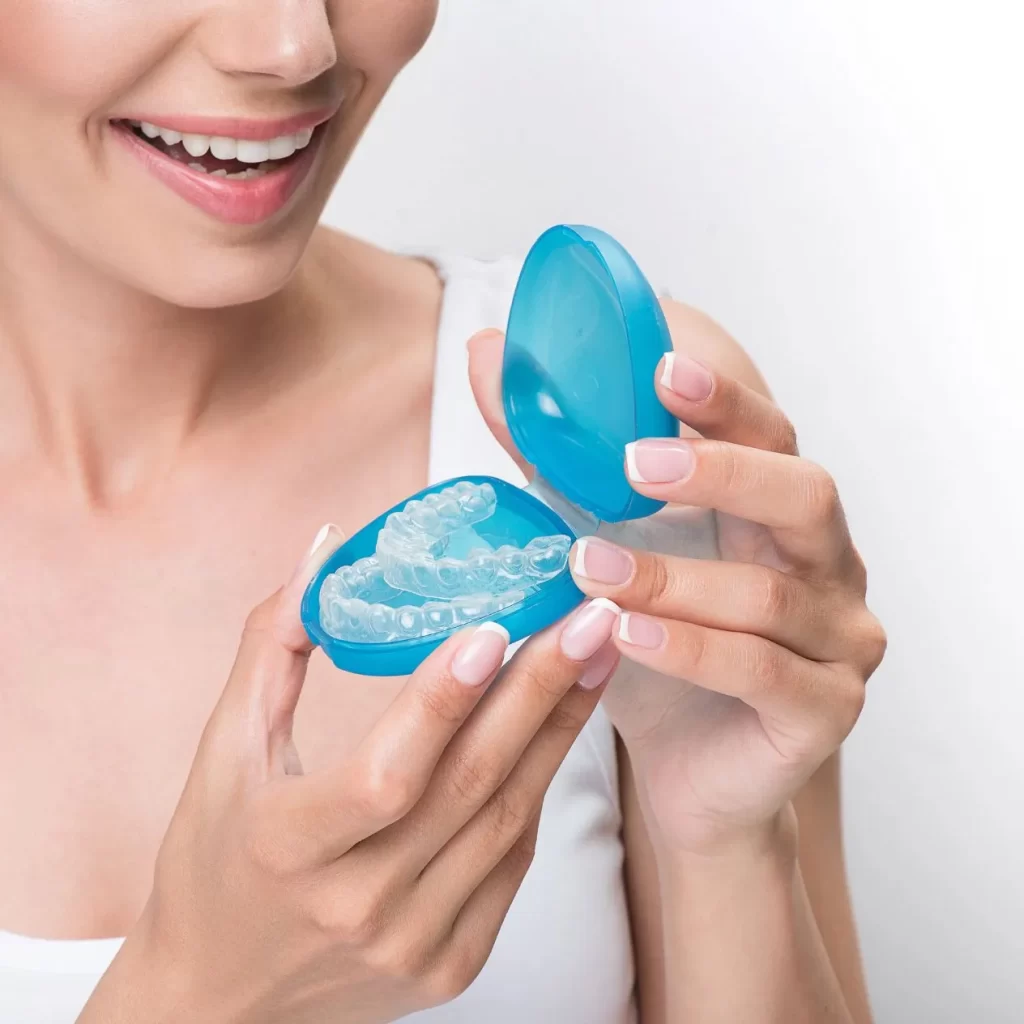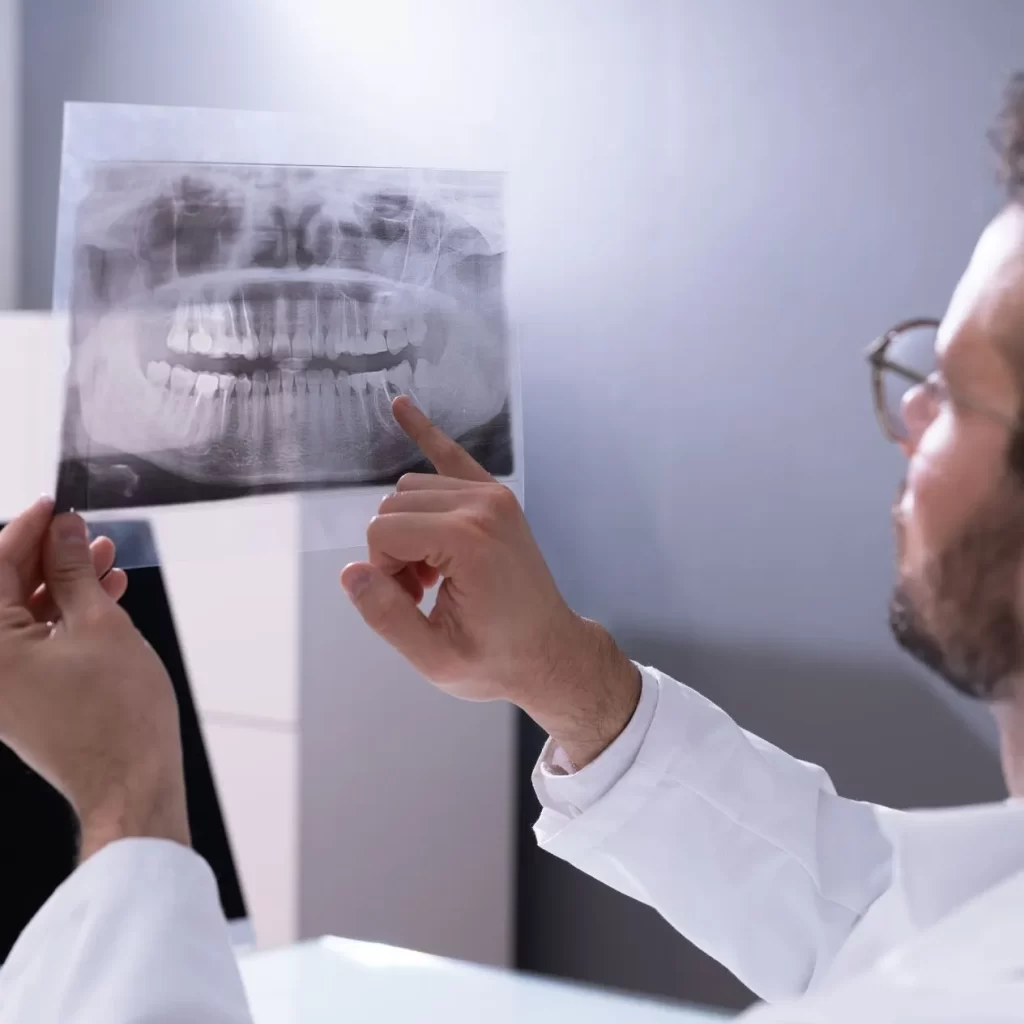 We provide a comfortable wisdom tooth removal experience for you with several options to minimize and eliminate pain.
Wisdom tooth extraction is a surgical procedure that is used to remove one or more wisdom teeth. Wisdom teeth are the four permanent adult teeth located at the back corners of your mouth on the top and bottom. These teeth usually appear in people between the ages of 17 and 25.

If a wisdom tooth doesn't have enough space to grow (impacted wisdom tooth), resulting in pain, infection or other dental problems, you will likely need to have it removed. To prevent potential problems in the future, some dentists and oral surgeons recommend wisdom tooth extraction even if impacted teeth aren't currently causing problems. If you need wisdom tooth removal in Toronto, we encourage you to have it done by our experienced and caring dentists at HealthOne. We are conveniently located in downtown and provide attentive, caring service.
Access to emergency dental care allows you to feel confident and prepared.
Although we hope our clients will never experience a dental emergency, access to a clinic that accepts immediate appointments can give you peace of mind that you and your family are safe.

Accidents do happen, and immediate care is the number one priority when experiencing a dental emergency. Our dental team is prepared for a wide range of circumstances and are dedicated to providing pain relief and professional care when you need it most.  For safe and trusted emergency dental care in Toronto, you can count on our team at HealthOne.

HealthOne Dental gives priority to emergency situations.

Appointments may be booked the same day.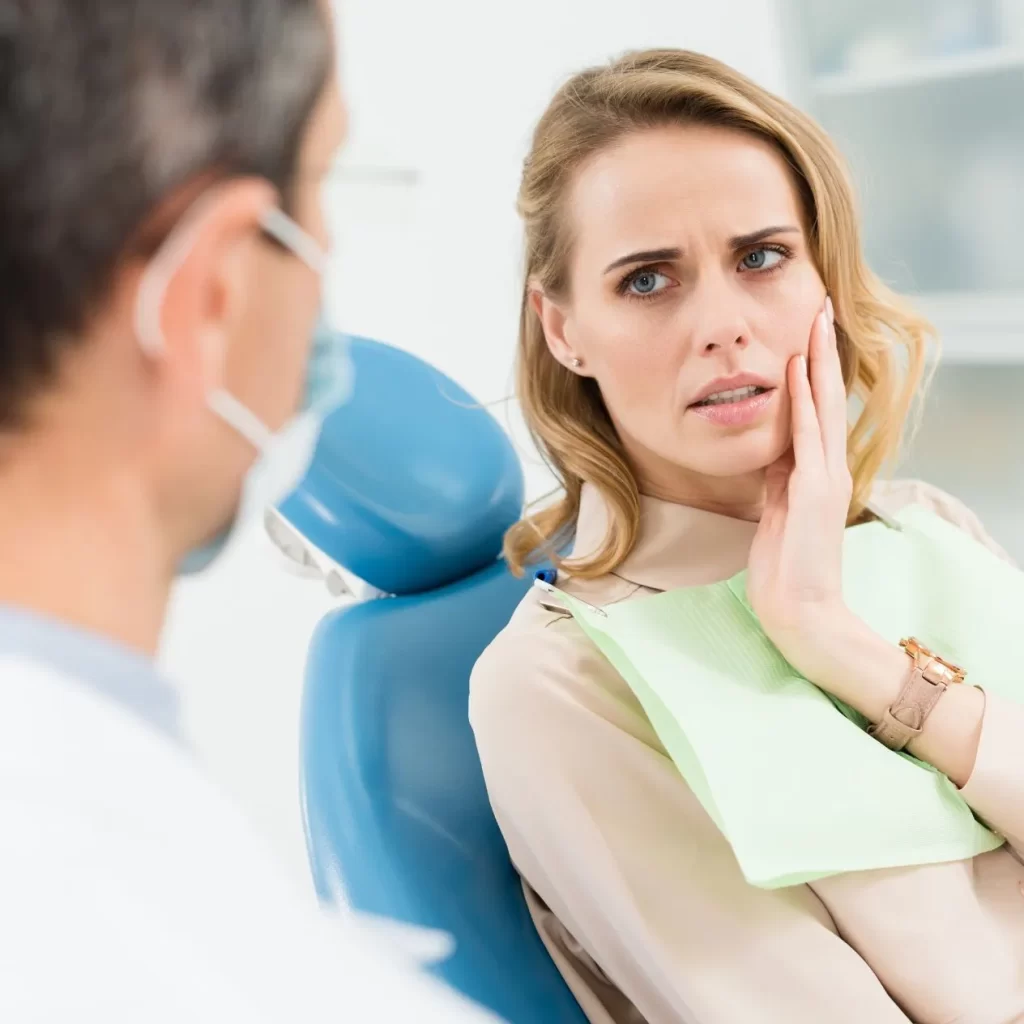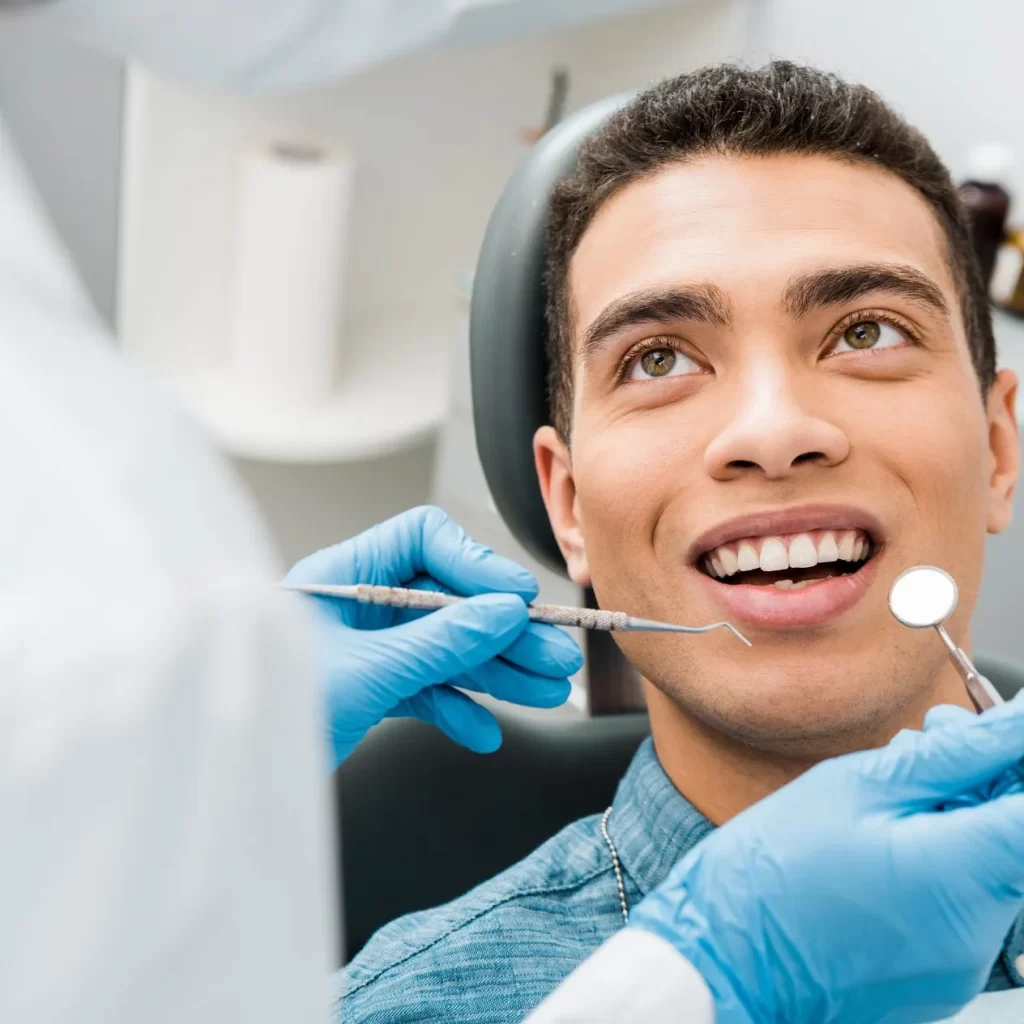 Cosmetic dentistry is a term used to describe elective dental procedures that can improve the appearance of your teeth, mouth, and smile. A radiant smile is an important part of inspired living, as it can boost your confidence and even improve your overall appearance.
Most cosmetic dental procedures are elective, but they can offer a wide range of benefits, including making regular cleaning easier, improving a patient's confidence and even reducing teeth grinding.

If your teeth are stained, discoloured, worn, chipped, broken, misaligned, misshapen, or have gaps between them, our modern cosmetic dentistry options at HealthOne Dental can help you achieve the long-lasting, healthy, and radiant smile you deserve.

Our cosmetic dentists will work with you to develop a treatment plan and discuss the price points of treatment options. In this section, you will find some information that can help you learn more and make decisions about the various types of cosmetic dental procedures available at HealthOne.
A white, radiant smile changes the way you see the world and the way the world sees you.
At HealthOne Dental, our teeth whitening cosmetic treatment will make your smile noticeably whiter and brighter in as little as one visit.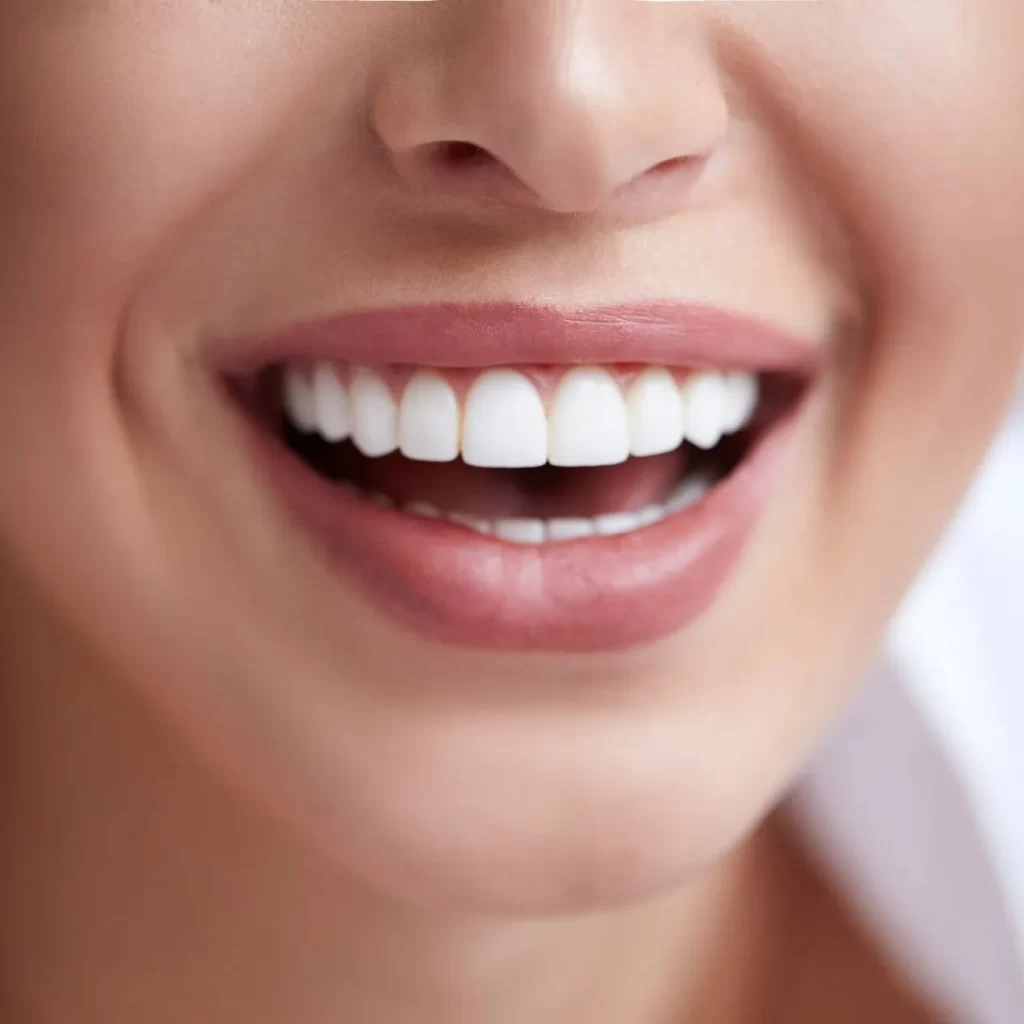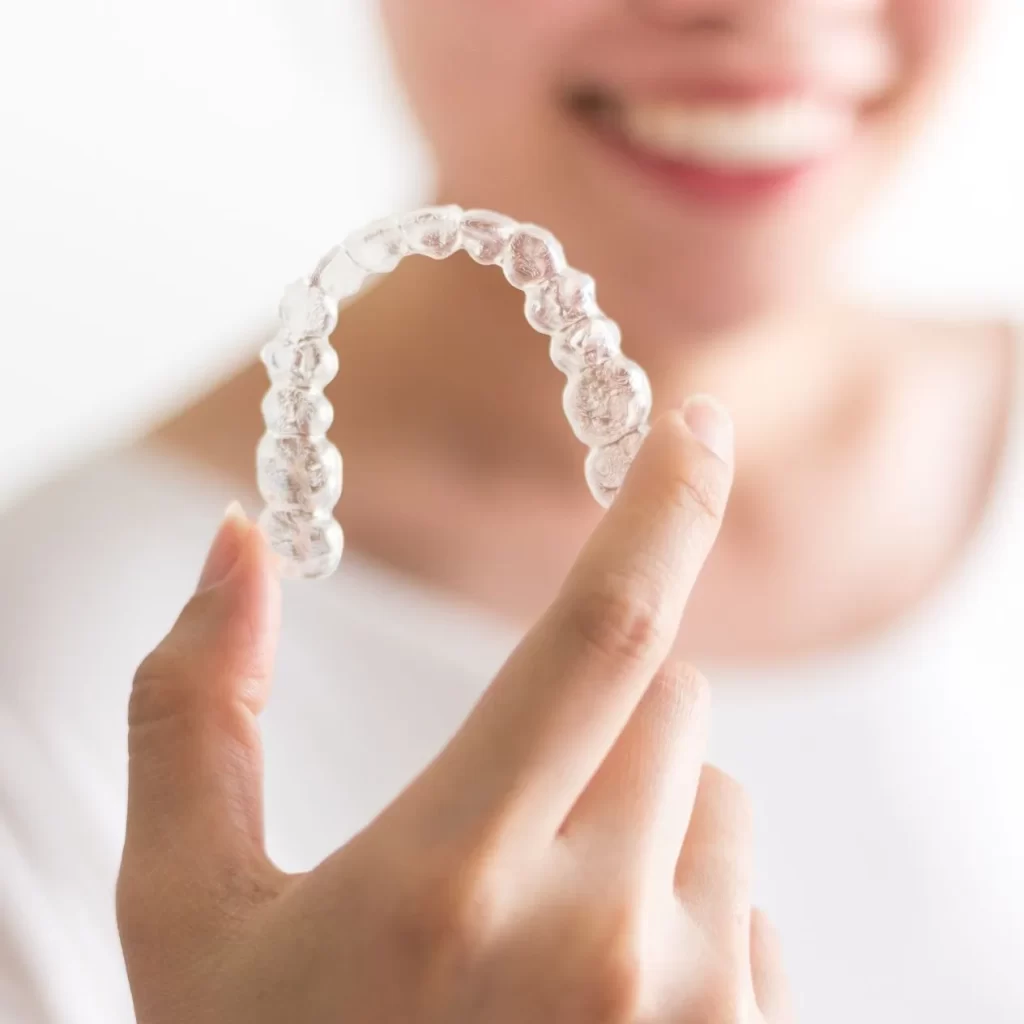 Invisalign® Clear Aligners
Invisalign® is a type of orthodontic treatment that uses a series of clear plastic aligners to gently move the teeth into a new position. Using Invisalign®'s powerful technology and our dentist's expertise, HealthOne Dental will create a digital, customized plan for shaping your new smile.
Your custom-made aligners are worn to gradually and safely straighten your teeth, and create your perfect smile over time. Invisalign® treatment times vary, with the majority of cases taking 6-8 months. You will check in with our dentist every 4-6 weeks throughout your treatment. There are also a variety of payment plans and insurance options that can cover part of the cost of treatment.
HealthOne is proud to be a partner of Invisalign® by Align Technology and be in the top 1% of Invisalign providers in North America. Invisalign® offers so much more than an aesthetically advanced alignment experience. Their innovative dental technology takes the practice of orthodontics to a new level. Our Dental clinic and Dental Director, Dr. Sunny Gill, have been recognized as a Diamond provider by The Invisalign Advantage Program.
Dental Implants and Bridges
At HealthOne Dental, there are a number of modern and aesthetic ways to restore or enhance your smile. If you have missing teeth, we offer dental implants and dental bridges in addition to partial or complete dentures.
Implants are used to replace missing roots and support artificial replacement teeth. They are comfortable and look exactly like natural teeth, which will give you a beautiful smile.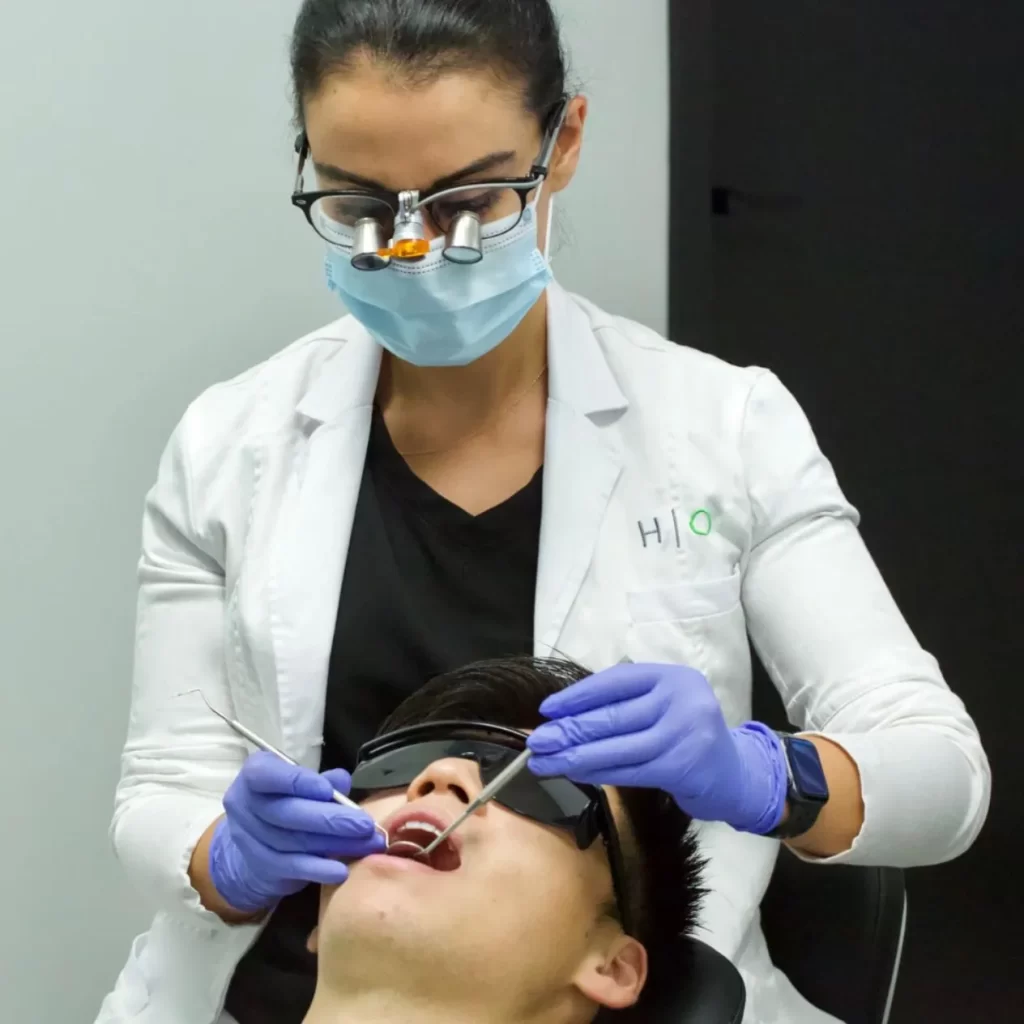 Dentures are removable, artificial replacements designed to replace missing teeth and give you a beautiful, complete smile. If an accident, a disease or poor oral health care has left you with only a few healthy teeth or none at all, your dentist might recommend dentures to replace your missing teeth.
There are 2 types of dentures: partial and complete. For both types of dentures your dentist or specialist makes a model of your teeth by taking impressions. The models are used to custom-make your dentures.

Your dentist may recommend complete (full) dentures or partial dentures, depending on how many natural teeth you have lost. Dentures will be created to match your existing teeth, so they are made to closely resemble your natural teeth. They may even improve your smile and fill out your facial appearance.
Gingivitis – Periodontal (Gum) Treatment
One of the main reasons you should brush twice a day and floss once a day is to prevent gingivitis. Gingivitis is inflammation or bleeding of the gums.
Gingivitis begins with plaque, which contains bacteria that cause gingivitis and tooth decay. When plaque is left unchecked, it will eventually harden into tartar, which can only be professionally removed. When left untreated, simple plaque can progress into periodontitis.

The main warning signs of gingivitis are puffy gums, traces of blood on your toothbrush, or a change in the colour of your gums, but it is not necessarily painful. The good news is that gingivitis can be prevented and if treatment is started, it can be successfully reversed. Treatment options vary depending on severity, so our HealthOne Dental team will first perform a comprehensive evaluation to determine the best treatment strategy for your needs.
Root canal treatment is the process of removing infected or injured tissue (pulp) from inside the crown and roots of a tooth. Once cleaned, the canal is disinfected, shaped, filled and sealed with natural rubber-like material called gutta percha. The opening of the tooth is then sealed with either a temporary or permanent filling to prevent future infection.
Considerable advancements in diagnosis, radiographic imaging, equipment and techniques now permit dentists to complete root canal treatment, even for teeth with very complex anatomies, to the highest level of precision. A root canal at HealthOne Dental will be no more uncomfortable than a standard filling.

Taking proper care of your teeth and gums is part of a lifelong commitment to inspired and healthy living. The best way to prevent the need for root canal treatment is to follow a good oral hygiene routine by brushing twice per day, flossing once per day, and visiting your dentist regularly for cleanings.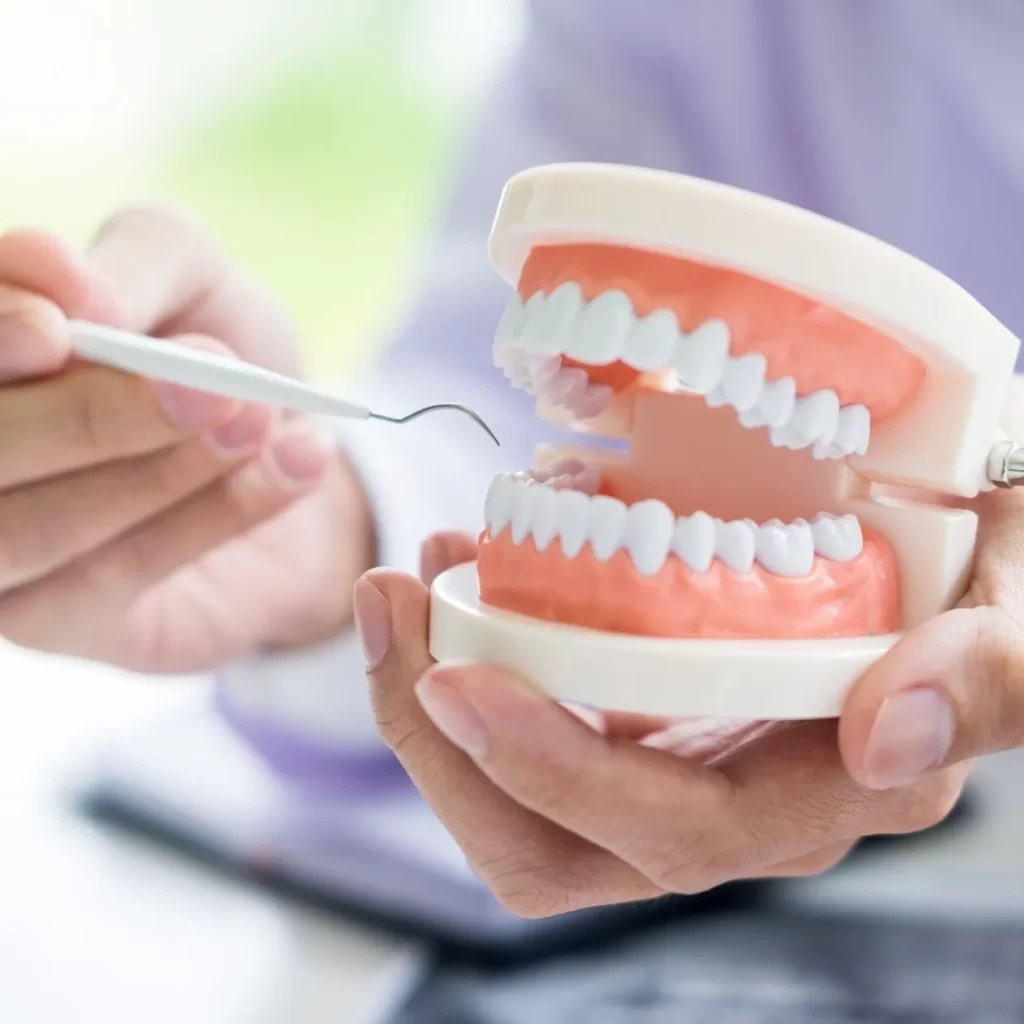 Frequently Asked Questions
How much is a dental check-up Toronto?