110 Harbour St. Toronto, M5J 0B7
based on 78 Google Reviews
Orthotics & Orthopaedic Products
Custom orthotic insoles can help with many conditions that arise from a biomechanical gait (walking) abnormality. 
Orthotics are often prescribed in combination with treatments such as physiotherapy, massage therapy, and chiropractic care. Custom orthotics are commonly used to treat symptoms of conditions such as plantar fasciitis, Achilles tendonitis, shin splints, ITB syndrome, and hip joint pain. We use the latest GaitScan and 3D Casting technology to create orthotic insoles that are precisely measured and customized for your body. If you need some of the best custom orthotics in Toronto, our team is here to help.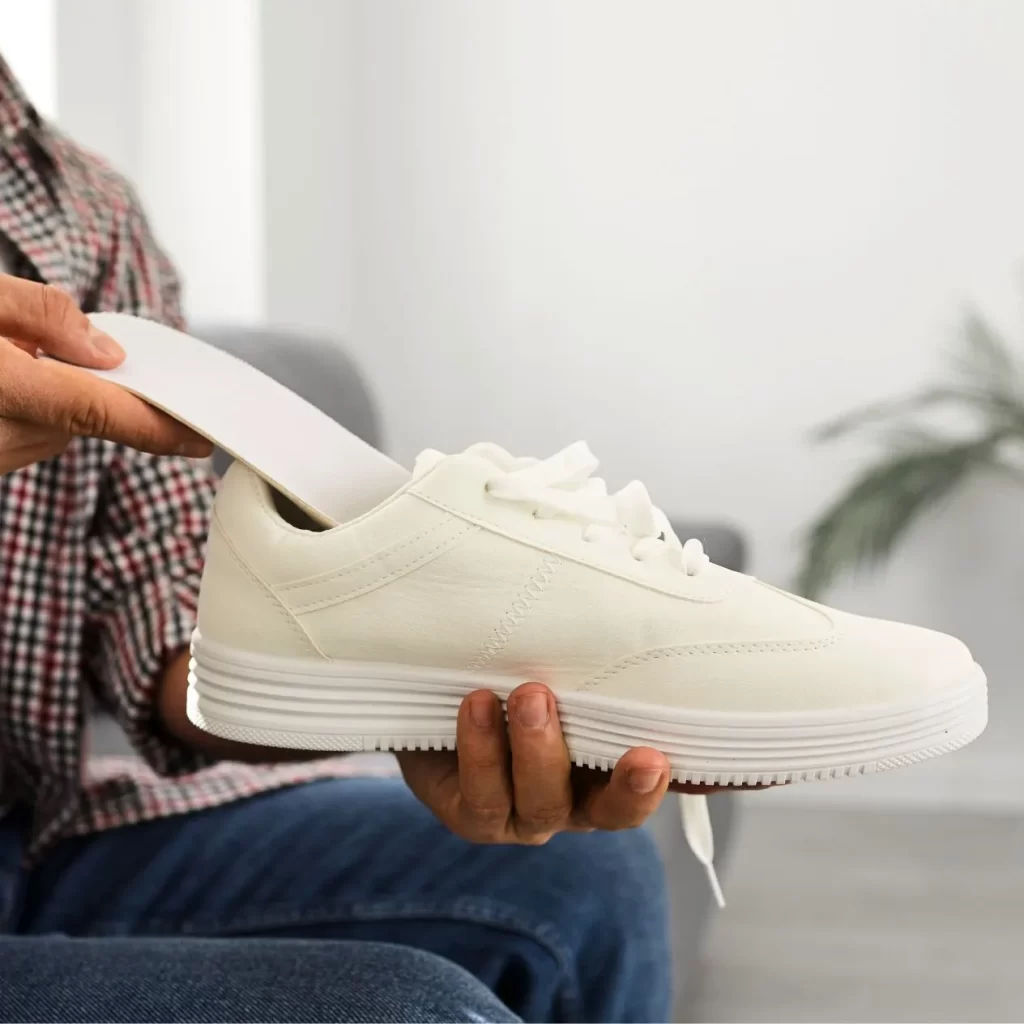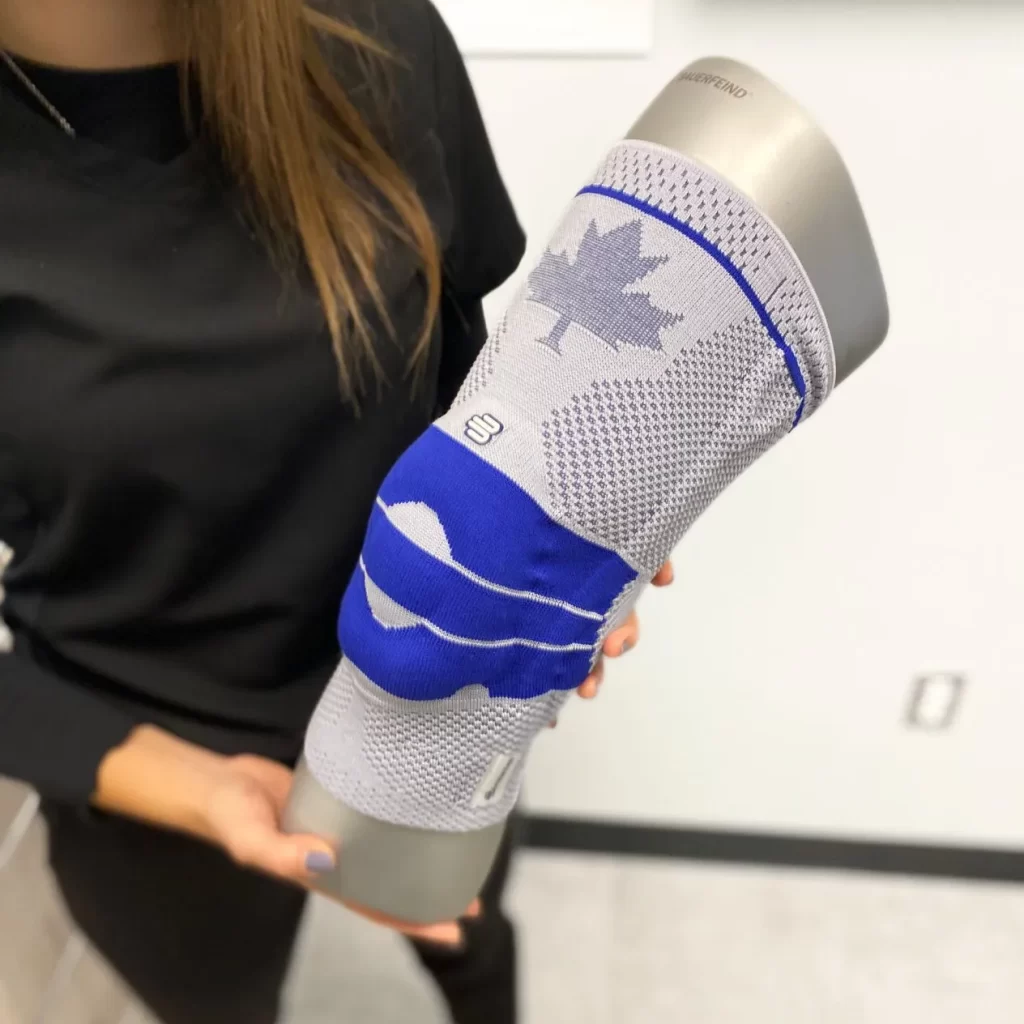 Custom Orthopaedic Bracing is used for a wide variety of conditions and activities. 
From a mild tendonitis, to post-operative care, bracing can help you with your daily physical movements. It can also support your performance during sports. Our bracing experts will perform detailed functional assessments to help you decide the right brace for your needs. Precise measurement and fitting allow us to ensure you receive a brace that will be effective in helping you function. At HealthOne, we carry a large selection of high quality custom bracing for knees, elbows, shoulders, wrists, ankles, back and more.
Compression Socks and Stockings
Compression socks and stockings are designed to provide therapy for your feet and legs. 
A gentle pressure is applied which promotes blood flow return from your lower body back to your heart. Compression therapy can be used to treat a wide variety of circulatory conditions, but also as a preventative measure. HealthOne carries a wide assortment of compression products including business socks, pantyhose, and performance sleeves and socks. Our products are available in a variety of designs, colors and compression levels to fit different lifestyles. Compression hosiery provides effective relief for a wide range of conditions, from tired, achy legs and varicose veins to more severe problems such as chronic venous insufficiency.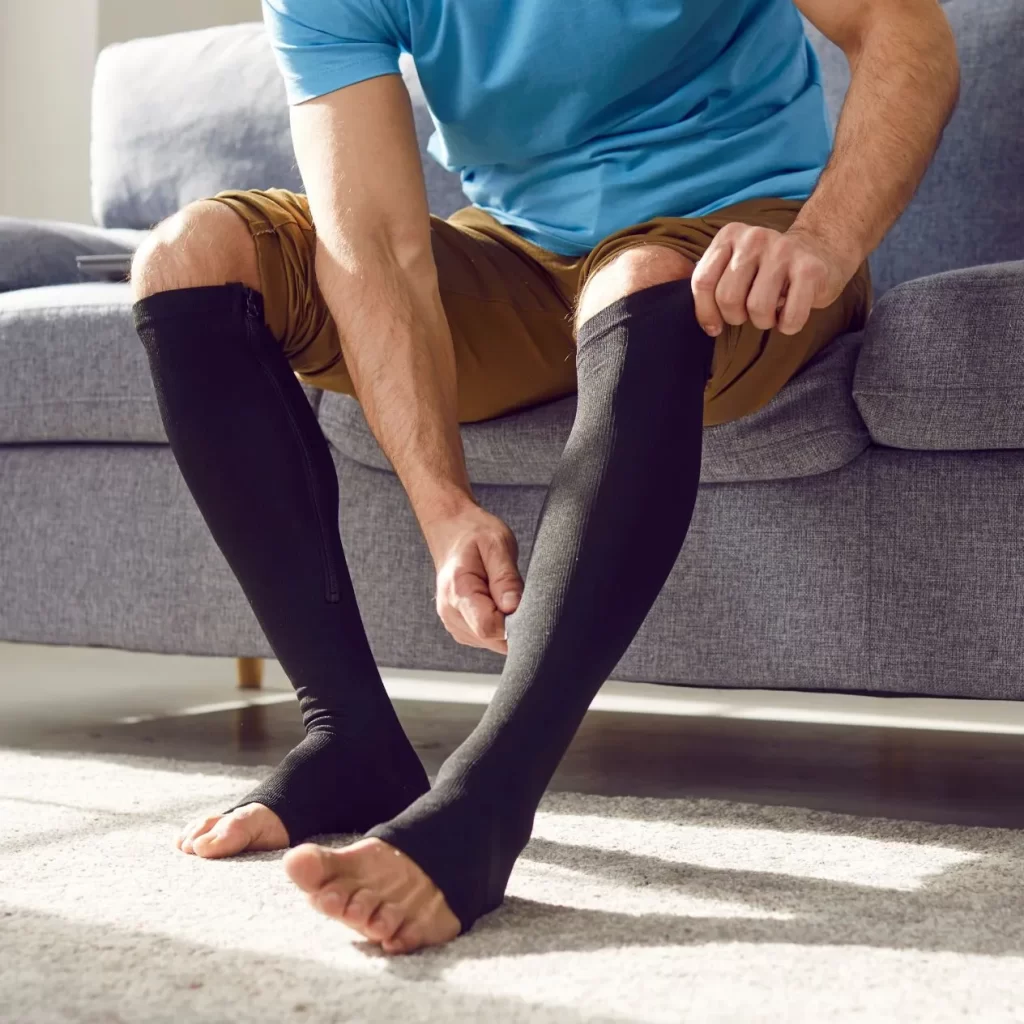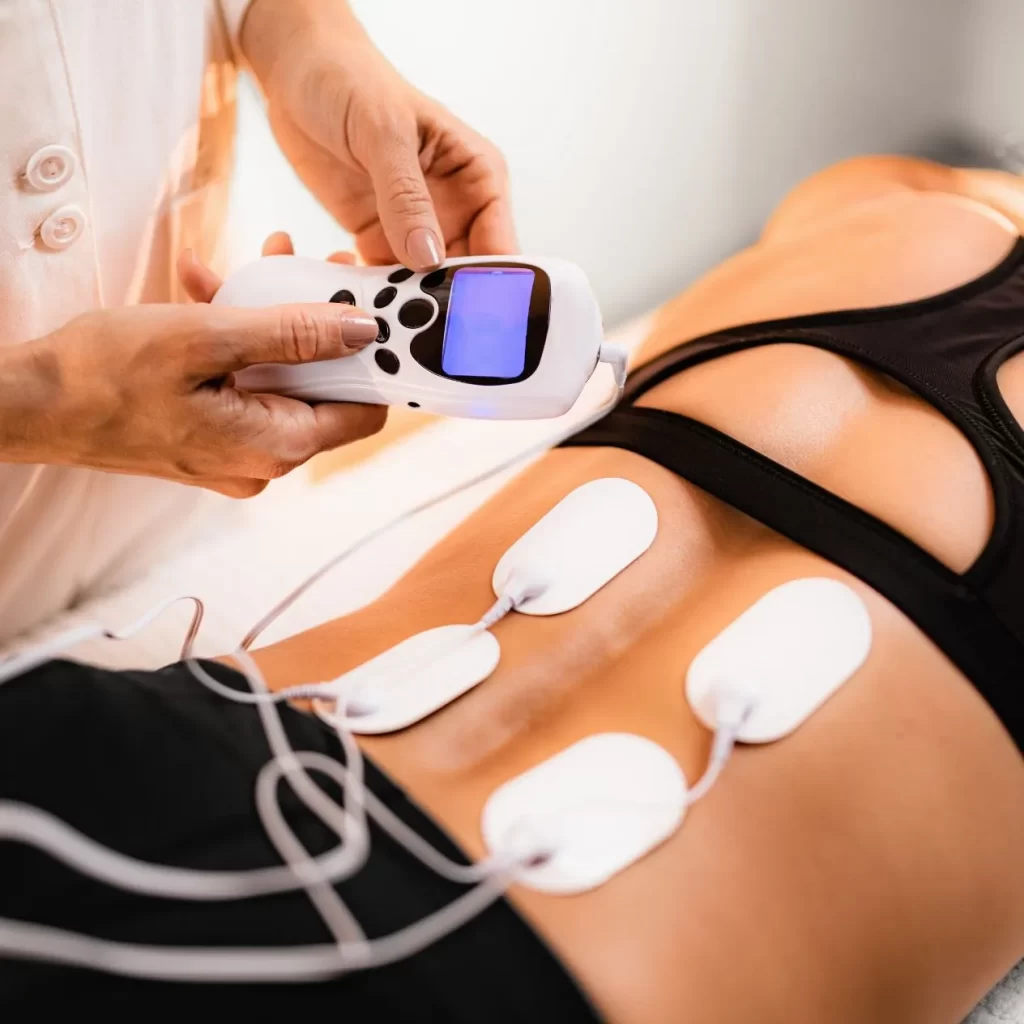 TENS stands for Transcutaneous electrical nerve stimulation. TENS Units are a portable battery operated device used to treat and manage pain symptoms.
TENS works by delivering small electrical impulses through electrodes that attach to your body. These impulses stimulate the nervous system, which reduce its ability to transmit pain signals to your brain. These same impulses can also help your body stimulate endorphin production, and as a result, reduce your pain. TENS units can be used for a wide variety of pain related conditions and can help you manage your symptoms from home.
Our diverse team of Rehab practitioners can recommend and dispense Orthotics and Orthopedic products as a component of your unique treatment approach. They will recommend the best suited products for your needs along with additional Rehab services to support your recovery.
Physiotherapy is a hands-on, patient-centered approach to healthcare that promotes the recovery of your injury, illness, or disability. Our HealthOne physiotherapists can help you manage pain, prevent injury, and restore function and mobility.
HealthOne's physiotherapists combine their extensive knowledge of how the body functions with specialized clinical skills to assess, diagnose, and treat your specific condition. They offer some of the best physiotherapy in downtown Toronto and encourage you to become an active participant in your recovery. Our physiotherapists will develop an individualized treatment plan for your unique needs.
Physiotherapy is a scientific treatment method that can restore your movement and functional ability to the fullest. Our physiotherapists are highly experienced in providing one on one, hands-on treatment, and specialize in managing sports and repetitive strain injuries.
Our Physiotherapists focus on rehabilitating your injury using a manual, hands-on approach. As part of your treatment, they may recommend and dispense Orthotics or Orthopedic products to further support your healing and recovery.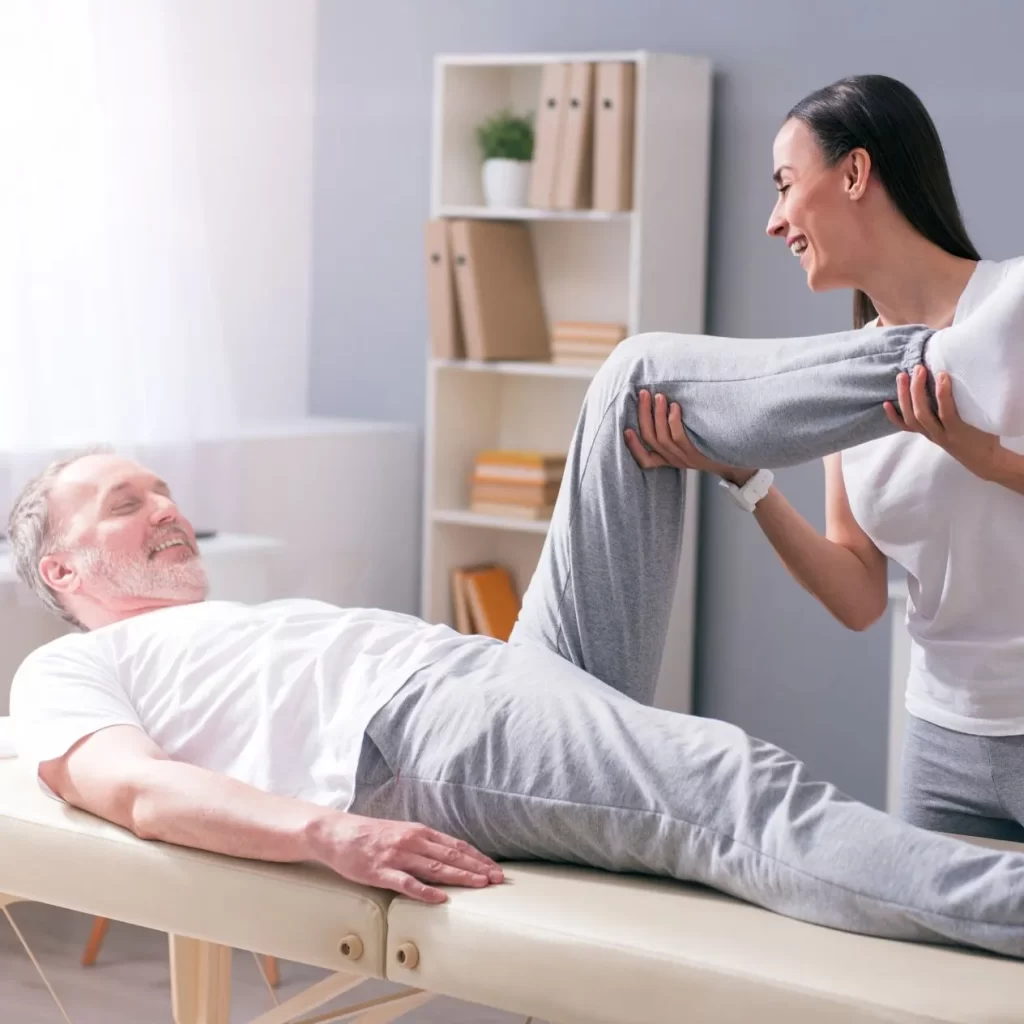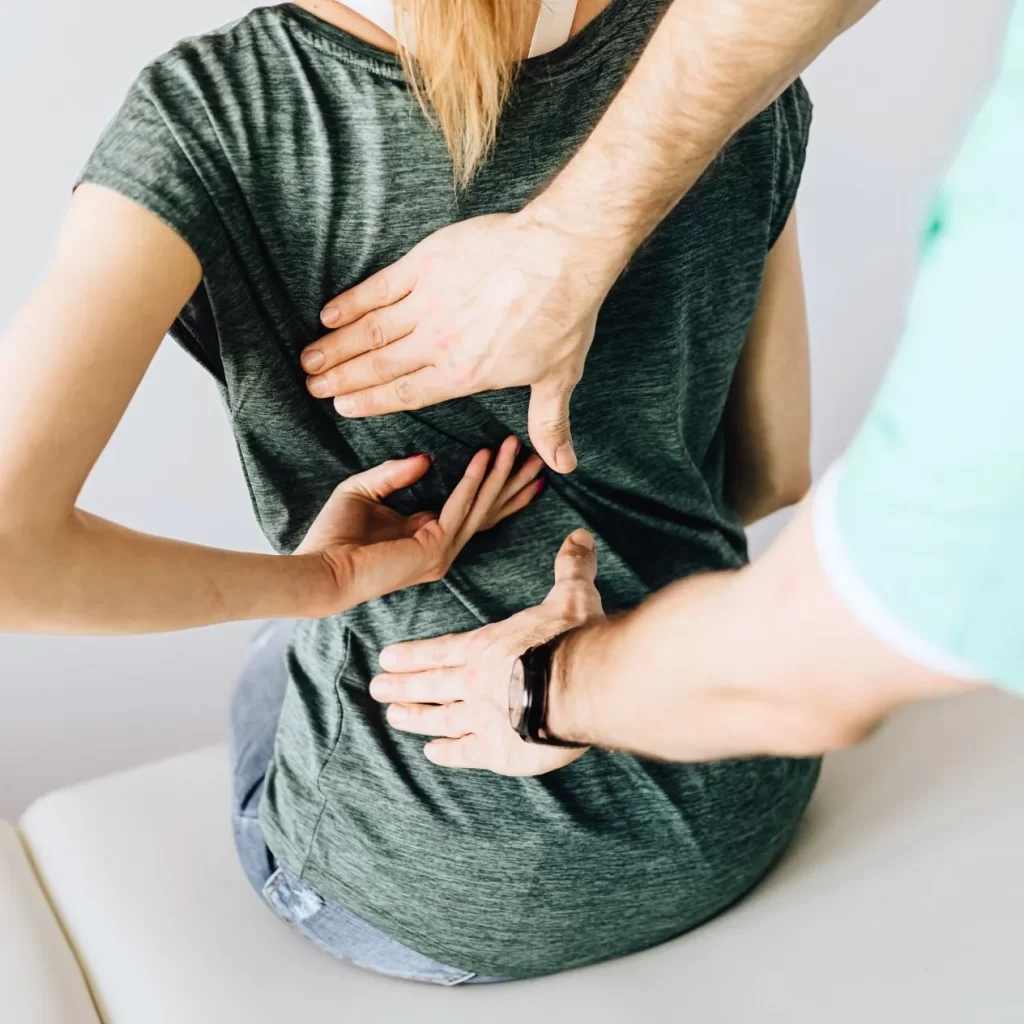 Chiropractic care is a non-invasive, manual approach to treating neuro-musculoskeletal issues of the body. Our chiropractors are trained to assess, diagnose, and treat injuries in the spine, muscles, joints, and nervous system.
Chiropractic care can help with sports-related and non-sports related pain and dysfunction as well as provide symptomatic relief for patients suffering from chronic conditions. At HealthOne, our chiropractors will complete a thorough assessment and work with you to develop a treatment plan to restore your functionality and promote optimal physical health. If you need one of the best chiropractors in downtown Toronto, our team is a top-quality choice to treat your concerns.
Our Chiropractor focuses on providing a non-invasive, drug-free manual approach to neuro-musculoskeletal issues. As part of your treatment approach, he may recommend and dispense Orthotics or Orthopedic products to further improve your experience and recovery. 
Massage therapy is a hands-on treatment approach performed on the soft tissues of the body for the purpose of optimizing health. 
It is most often used to alleviate and prevent discomfort in the muscles, connective tissue, tendons, ligaments, and joints.
At HealthOne, our registered massage therapists are highly trained and experienced in treating soft tissue related pain and injuries including tension headaches, low back pain, muscle strains, postural pain, and pregnancy related pain. We provide some of the most effective and professional massage therapy in downtown Toronto. Our team will work with you to develop an appropriate and beneficial treatment plan for your primary concerns.
Massage therapy has a therapeutic effect on the body and improves your general health by acting on the muscular, nervous, and circulatory systems. Our team offers a wide variety of styles and techniques that can improve circulation, reduce headaches, help manage anxiety, improve mobility, and promote better quality sleep.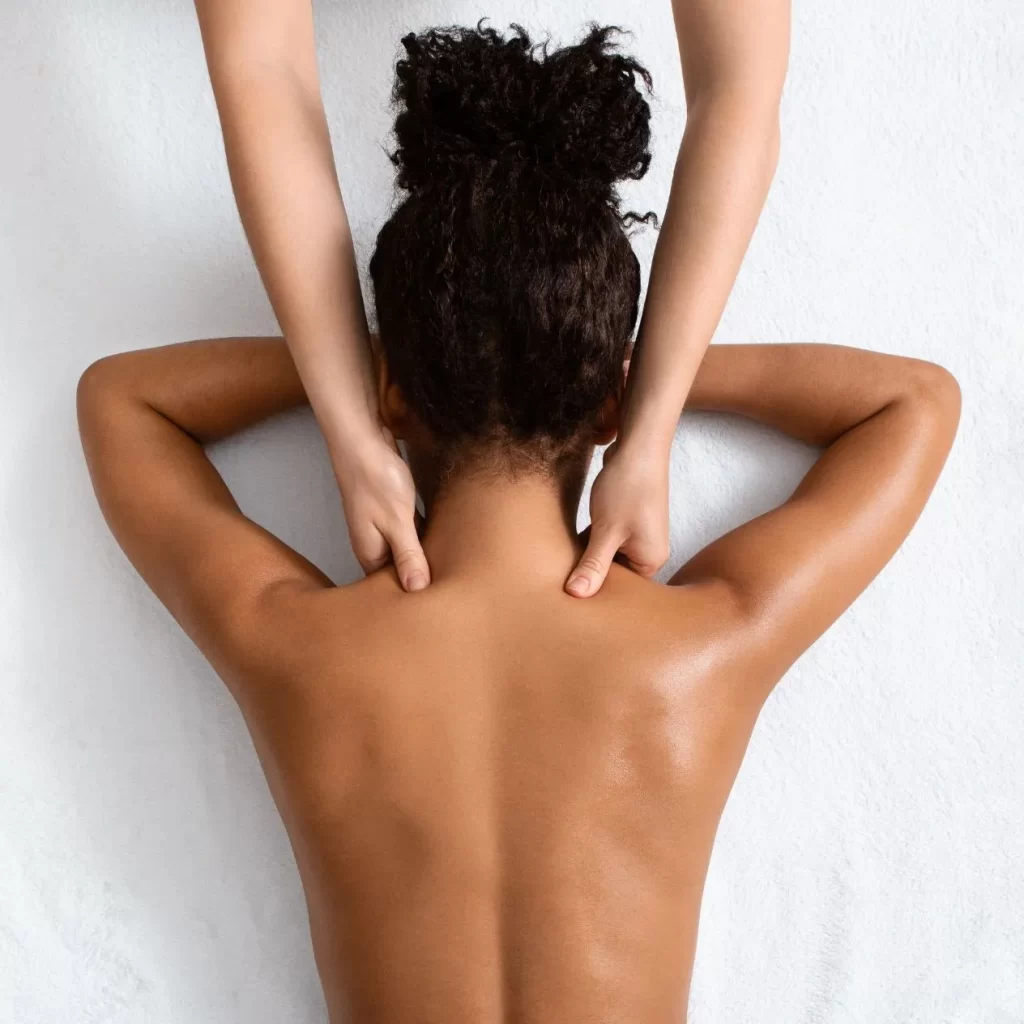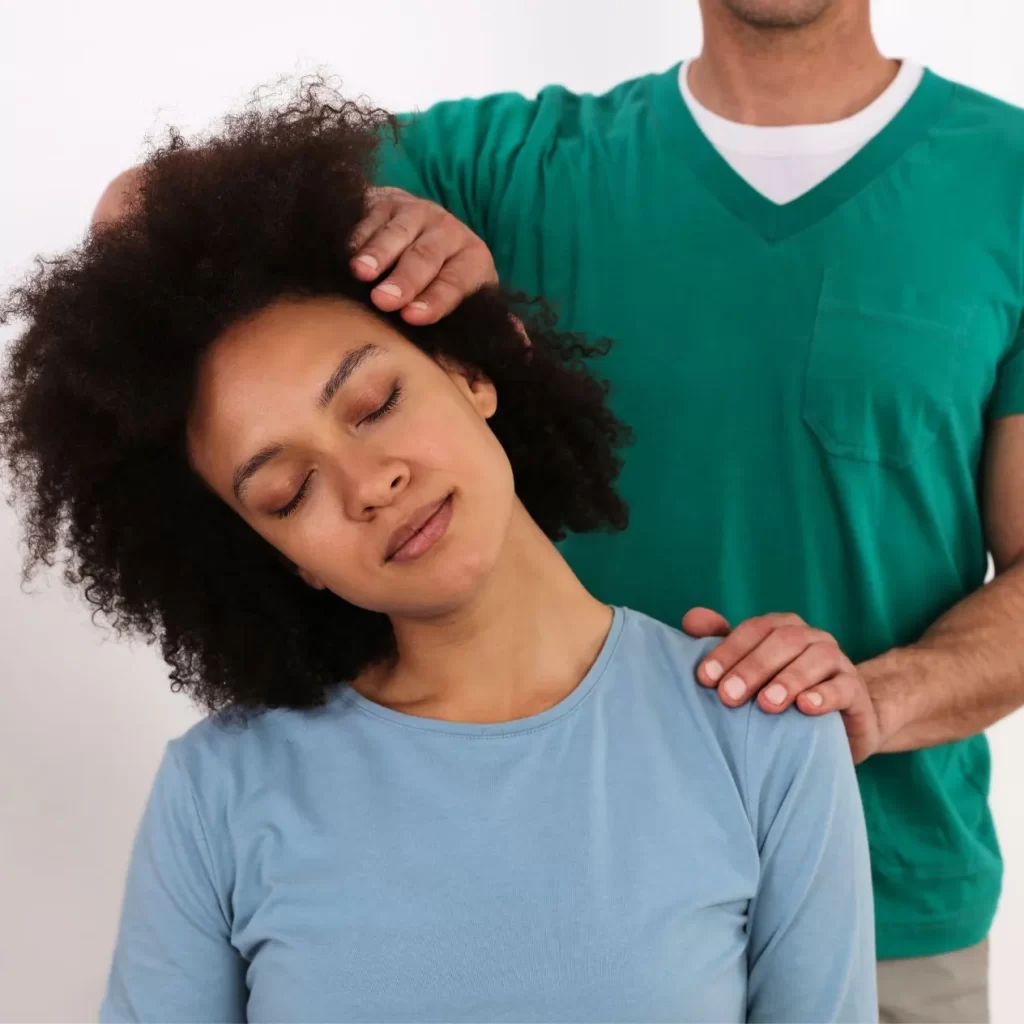 Osteopathy is a hands-on, non-invasive manual therapy that aims to improve health across all systems in the body. Osteopaths consider the body as a whole, which means they focus on the root cause of symptoms a patient is experiencing.
Osteopathy can help patients of all ages (including babies, children, adults, pregnant women, athletes, and seniors) and encompasses the treatment of acute (short-term) and chronic (long-term) conditions, as well as illness and injury prevention.
Common conditions treated with osteopathy include back, neck, shoulder, and joint pain; sciatica and carpal tunnel syndrome; GIT disturbances (ex. IBS, constipation); menstrual pain and irregularity; stress-induced health problems; various neurological and auto-immune conditions; TMJ jaw pain; and pregnancy and infant care (ex. lumbar pain, postpartum).
At HealthOne, our osteopaths take a unique approach with every patient and use a variety of techniques and treatment methods to address the restrictions and imbalances in the body.
Services offered at our North York Location
Kinesiology is the scientific study of human movement and exercise. Kinesiologists examine and identify how the human body moves and develop treatment plans to help it function better.
At HealthOne, our kinesiologists are highly trained in functional movement, performance, and gait analysis. They can assess and recommend orthopedic products and rehab treatments to optimize your physical well-being.
Our Kinesiologists are experienced and knowledgeable in promoting healthy lifestyles, reducing your risk of injury, and enhancing your overall quality of life. They work alongside our team of pyshiotherapists, chiropractors, and massage therapists to provide active care programs that can increase and maintain physical improvements.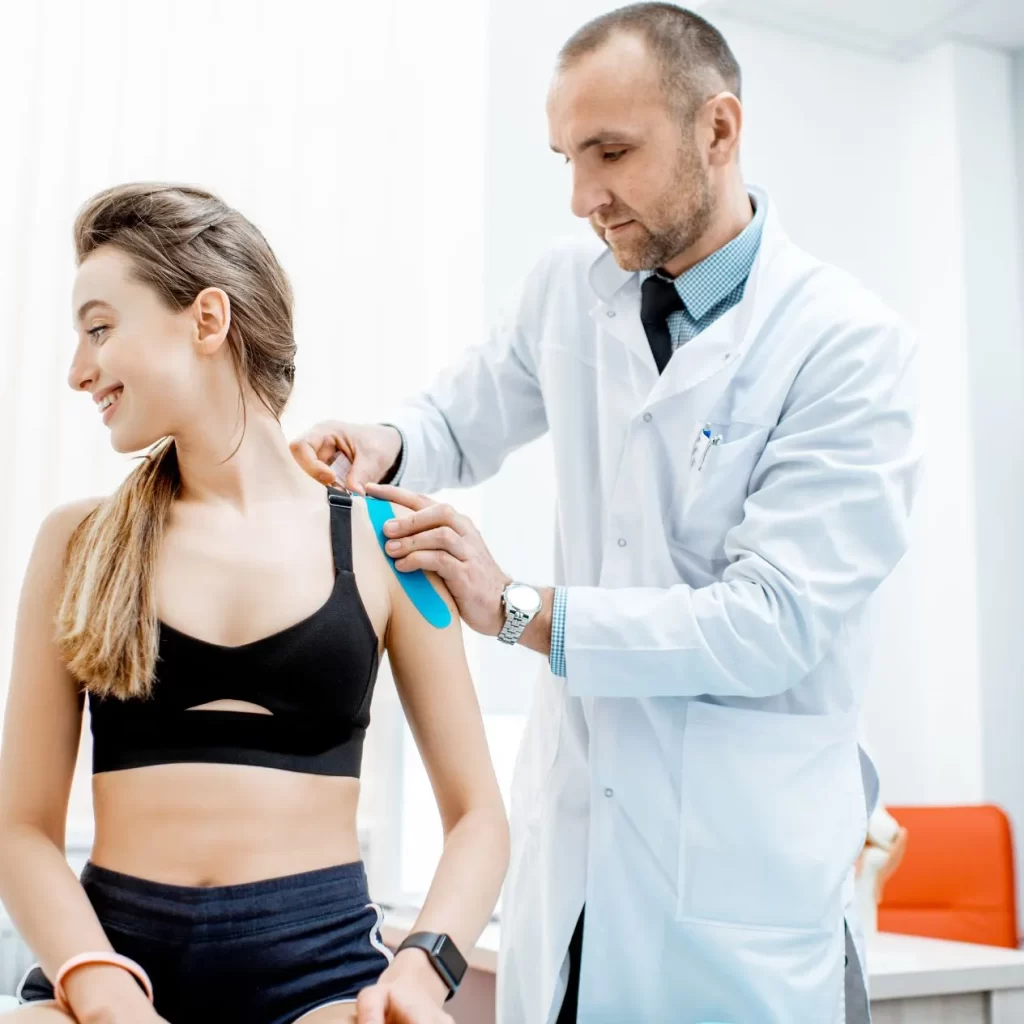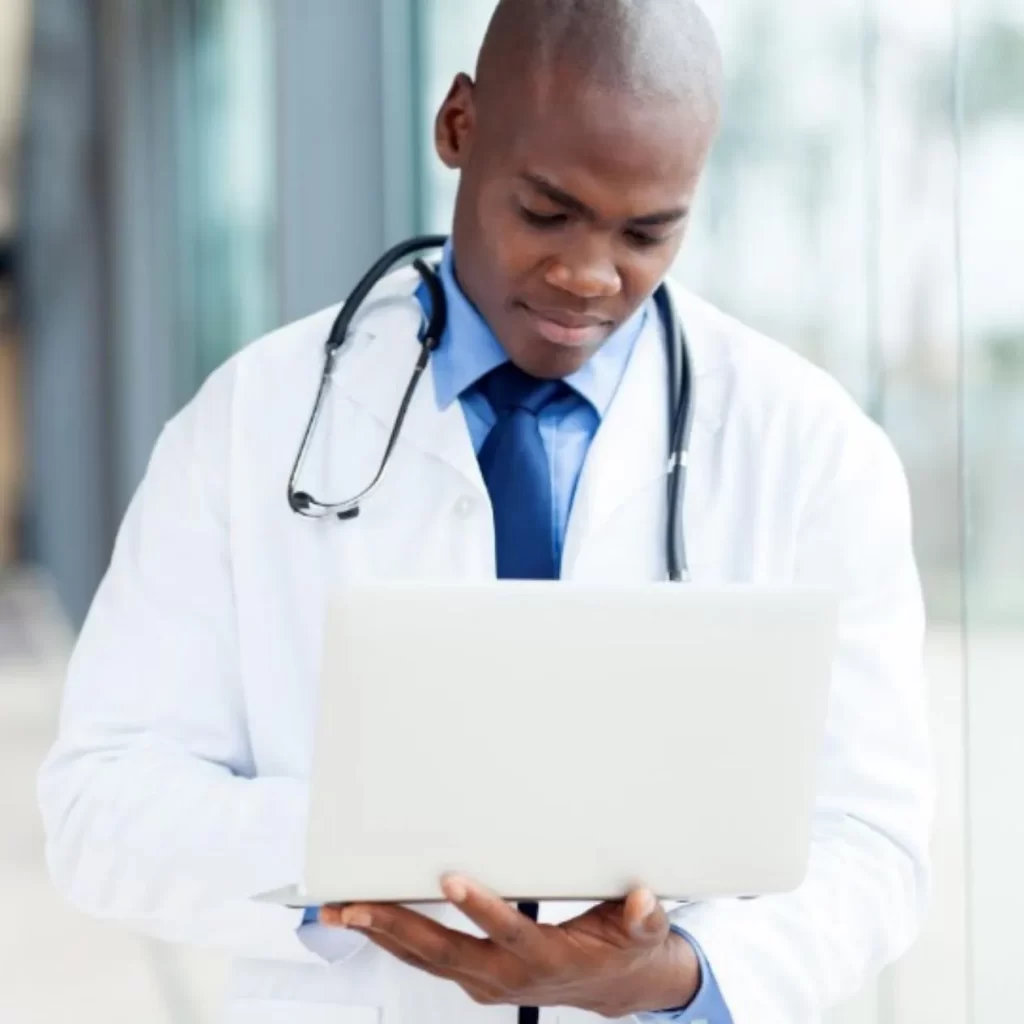 Sports Medicine specializes in evaluating and diagnosing injuries related to sports and is done by a doctor highly experienced working in musculoskeletal medicine.  
Doctors trained in Sports Medicine are knowledgeable in working with sports injuries across all ages and activity levels.
You may benefit from seeing HealthOne's Sports Medicine Doctor if you have concerns or questions pertaining to your body's function and its impact on any physical activity you take part in.
Injections prepared from the patient's blood that stimulate and speed up the natural repair process of the body.
Local cortisone injections typically used to treat orthopedic conditions such as arthritis, tendinopathies, and bursitis. The injection can reduce inflammation around the injured tissues.
Injections of a hyaluronic acid solution typically used as a fast and effective treatment for osteoarthritis. The injection can increase the cushioning and lubrication of osteoarthritic synovial, or joint, fluid.
Conditions, Injuries & Rehabilitation
Custom Orthopaedic Insoles
High Arches
Ilio-Tibial Band Syndrome
Plantar Fasciitis
Knee pain & Patello-Femoral Dysfunction
Sprains & Strains
Recent Fracture or Dislocation
Collateral Ligament Injury at the Knee
Joint Instability
Joint Effusion (Swelling, Pain and Stiffness)
Patello-Femoral Pain Syndrome
Osteoarthritis
Ligament Insufficiency & Instability
Compression Socks/Stockings
Varicose Veins (Deep or Superficial)
Diabetes (Type 2, Gestational)
Leg Swelling as a Result of Pregnancy
Chronic Venous Insufficiency